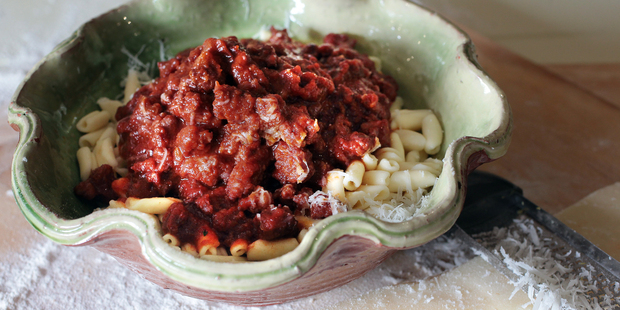 Serves 4
This pasta is typical of Sicily. It has no egg in it so is a very simple dough to make, but you need to have a cavatelli board and a bit of practice. Ready-made cavatelli is available at Sabato.
Pasta
• 500g durum wheat flour (semolina flour)
• tepid water
• 1 tsp salt
1. Mix the flour with the warm salted water until you get a firm dough. Knead the dough and form thick spaghettoni (rolls), then cut into 1cm portions and roll them on a fork (or special wooden cavatelli board) with your thumb to make the cavatelli, which are like little seashells.
2. When they are all ready, leave them in the air to dry. While you're making the cavatelli, keep the remaining dough covered with a towel so that it does not dry out.


Sauce
• 500g Italian sausage (preferably flavoured with fennel seeds and chilli flakes)
• extra-virgin olive oil
• ½ glass full-bodied red wine
• 1 tsp cinnamon powder
• 600ml tomato sauce (jar of passata or home-made)
• Grated caciocavallo Ragusano cheese (or you could use Pecorino)
1. Remove the sausage from its casing, break into small chunks, then sauté in extra-virgin olive oil on a medium-high heat.
2. Pour in the wine and, when the alcohol evaporates, add the cinnamon followed by the tomato sauce.
3. Lower the heat and let it simmer for 15 minutes.
4. Cook the pasta in boiling salted water; the cavatelli will float to the surface as soon as they are ready.
5. Place them in a bowl with the sauce, mix well and sprinkle with the grated cheese.