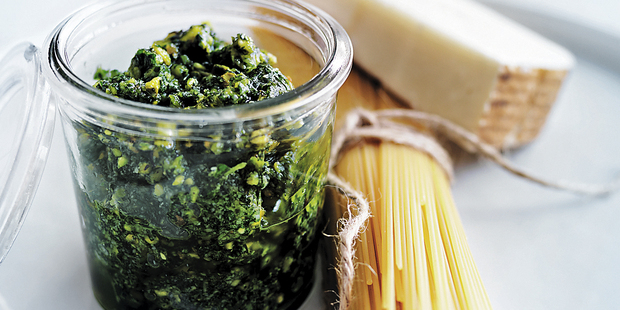 Serves 4
• 4 cups mint leaves
• ½ cup pistachios, toasted
• 1 clove garlic, crushed
• 1 Tbsp lemon juice
• 1 cup finely grated parmesan
• ½ cup olive oil
• Sea salt and cracked black pepper


1. Place the mint, pistachios, garlic, lemon juice, parmesan and oil in the bowl of a small food processor.
2. Sprinkle with salt and pepper and process to form a coarse paste.
3. Serving suggestions: Serve the pesto with spaghetti (you'll need 400g) and parmesan or as a dip with flatbreads.


Tips and tricks
• Pesto can be used in lots of ways, so don't feel limited by just pasta and noodles. It's perfect served as part of an antipasto plate, spooned over lamb or beef, or spread on sandwiches, wraps or pizza bases.
• Store pesto in a jar, covered with a layer of olive oil, in the refrigerator for up to 3-4 days.
• Freeze pesto if you've made too much, or want to keep some on hand at all times.
• Spoon it into ice cube trays and when frozen, transfer the cubes to freezer bags and thaw when required.
For more recipes visit the Donna Hay website, www.donnahay.com.