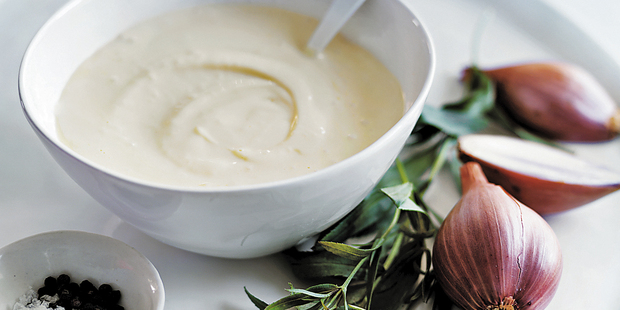 Hollandaise. Photo / Donna Hay Magazine
This popular velvety French sauce is best known for its starring role in eggs benedict - the ultimate Sunday breakfast. As with eggs, hollandaise is divine paired with vegetables like asparagus and artichoke and, of course, is delicious with seafood. We've used a blender in this simple recipe - add the butter gradually and you'll have a lovely creamy
emulsion.
Serves 4
• ¼ cup white wine vinegar
• 1 small shallot, finely chopped
• 6 black peppercorns
• 2 sprigs tarragon
• 3 egg yolks
• ½ tsp sea salt flakes
• 150g unsalted butter, melted


1. Place the vinegar, shallot, peppercorns and tarragon in a small saucepan over high heat. Bring to the boil and cook for 3 minutes or until reduced. Strain the mixture and allow to cool slightly at room temperature for 10 minutes.
2. Place the egg yolks, salt and vinegar reduction in the jug of a blender. With the motor running, very gradually add the butter and blend until the sauce is thick and glossy.
3. Remove and set aside until required.


Tips and tricks
• Experiment with the sauce by stirring through your favourite herb, as we have done with the tarragon hollandaise. Mint and lemon zest are nice fresh additions.
• Tarragon hollandaise will go beautifully with meat as well as seafood. It's delicious served with steak and potatoes.
• Make your hollandaise as close as possible to the time of serving. Cover the surface of the sauce with plastic wrap while you prepare any other ingredients.