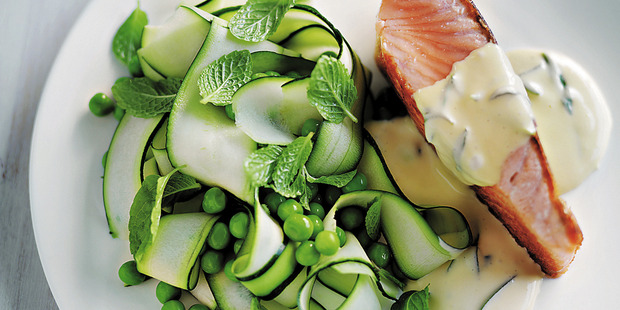 Serves 4
• 1 quantity hollandaise
• ¼ cup tarragon leaves
• 4 x 200g salmon fillets, skin on
• Sea salt and cracked black pepper
• 2 cups peas, blanched
• 4 zucchinis, thinly sliced
• 2 cups mint leaves
• 2 Tbsp olive oil, plus extra for brushing
• 2 Tbsp lemon juice
• lemon wedges, to serve


1. Place the hollandaise and tarragon in a bowl and stir to combine. Set aside. Heat a large non-stick frying pan over high heat. Brush the salmon with oil and sprinkle with salt and pepper.
2. Cook, skin-side down, for 4 minutes, turn and cook for a further 3-4 minutes or until cooked to your liking. Place the peas, zucchini, mint, olive oil and lemon juice in a bowl, sprinkle with salt and pepper and mix to combine.
3. Divide the salad between 4 serving plates, and serve with the salmon and tarragon hollandaise.


Tips and tricks
• Experiment with the sauce by stirring through your favourite herb, as we have done with the tarragon hollandaise. Mint and lemon zest are nice fresh additions.
• Tarragon hollandaise will go beautifully with meat as well as seafood. It's delicious served with steak and potatoes.
• Make your hollandaise as close as possible to the time of serving. Cover the surface of the sauce with plastic wrap while you prepare any other ingredients.
For more recipes visit the Donna Hay website, www.donnahay.com.