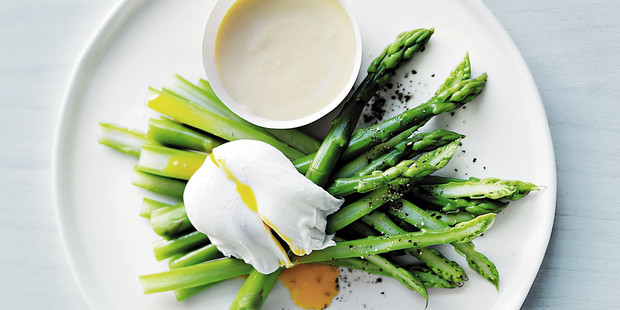 Poached eggs and asparagus with hollandaise. Photo / Donna Hay Magazine
Serves 4
• 400g asparagus, halved lengthways
• 1 Tbsp white vinegar
• 4 eggs
• Sea salt and cracked black pepper
• 1 quantity hollandaise


1. Blanch the asparagus in a large saucepan of salted boiling water for 2 minutes. Drain and set aside. Heat water in a medium saucepan over medium heat until just simmering.
2. Add the vinegar and use a wooden spoon to create a gentle whirlpool. Crack each egg into a small bowl and, one at a time, gently slip them into the water. Cook for 3-4 minutes or until the egg white is cooked and the egg yolk is still runny.
3. Remove with a slotted spoon. Divide the asparagus between 4 plates. Top with a poached egg, sprinkle with salt and pepper and serve with the hollandaise.


Tips and tricks
• Experiment with the sauce by stirring through your favourite herb, as we have done with the tarragon hollandaise. Mint and lemon zest are nice fresh additions.
• Tarragon hollandaise will go beautifully with meat as well as seafood. It's delicious served with steak and potatoes.
• Make your hollandaise as close as possible to the time of serving. Cover the surface of the sauce with plastic wrap while you prepare any other ingredients.