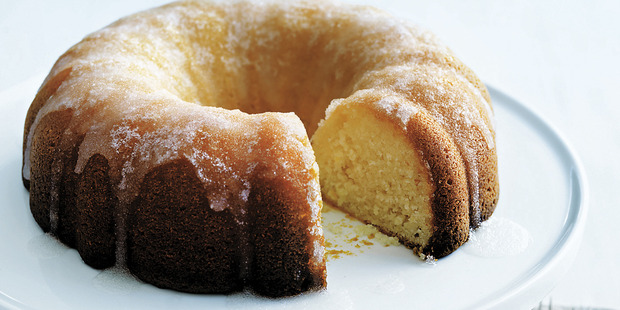 Lemon yoghurt cake. Photo / Donna Hay Magazine
Serves 10-12
• ¾ cup vegetable oil
• 2 eggs
• 1 Tbsp finely grated lemon zest
• ¼ cup lemon juice
• 1 cup Greek-style yoghurt
• 1 ¾ cups caster sugar
• 2 cups self-raising flour
Lemon sugar icing
• ¾ cup white sugar
• ¼ cup lemon juice


1. Preheat oven to 160C. Place the oil, eggs, lemon zest, lemon juice, yoghurt and sugar in a large bowl and whisk to combine. Sift in the flour and stir until smooth.
2. Pour into a well-greased 24cm Bundt tin and bake for 50-55 minutes, or until a skewer inserted in the cake comes out clean. Leave to stand in the tin for 5 minutes.
3. To make the lemon sugar icing, place the sugar and lemon juice in a bowl and stir to combine. Turn the cake out onto a cake stand and, while still hot, spoon over the icing. Leave the icing to set for 10 minutes and serve warm.

Tips and tricks
• Store lemon cakes in an airtight container. They should stay fresh for up to three days. These cakes are suitable to freeze. Simply take them out of the freezer an hour before serving, thaw, and ice according to the the recipe.
• A bundt tin is a classic fluted ring-shaped cake tin. They can be found
at kitchen shops and supermarkets.