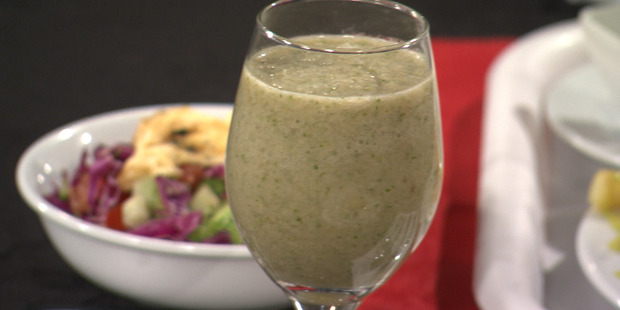 Serves 4
Blend the following ingredients in a blender until smooth. Use organic ingredients where you can.
• 1 orange, peeled and cut into chunks
• 1 pear or apple, cored and diced
• 1 avocado, seeded and peeled
• 1 banana, frozen or fresh, cut into chunks (use really ripe bananas)
• ⅓ cup sultanas or raisins, soaked (optional)
• 1 bunch of fresh puha, parsley, kale, chopped
• 1 cm of fresh ginger, sliced
• 1tbsp chia seeds
• 1 scoop of spiriulina (optional)
• 1-2 cup of filtered water or Doles baby coconut water (optional) according to required consistency


1. Place the fresh fruit pieces towards the bottom of the blender to make enough liquid to blend the frozen bananas.
2. Blend and then pour into a tall glass to serve.