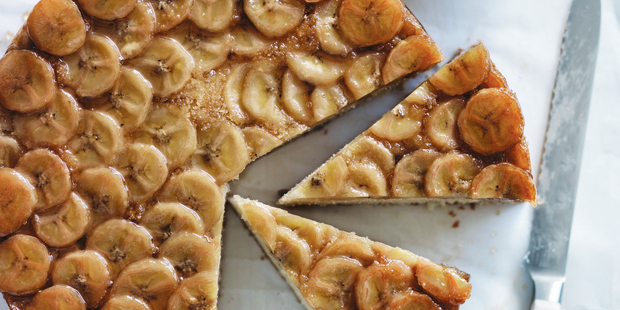 Serves 8-10
• 50g unsalted butter
• ⅓ cup brown sugar
• 4 bananas, peeled and sliced
• 4 eggs
• 1 cup caster sugar
• 1 tsp vanilla extract
• 1 cup ground almonds
• 1 tsp baking powder
• 1 cup plain flour
• 150g unsalted butter, extra, melted


1. Preheat oven to 160C. Heat the butter and brown sugar in a small saucepan over low heat, stirring until the butter has melted. Increase the heat to high, bring to the boil and cook for a further 1 minute.
2. Pour into a lightly greased 22cm round cake tin. Arrange the banana slices, overlapping slightly, on the caramel. Set aside. Beat together the eggs, caster sugar and vanilla with an electric mixer for 8-10 minutes or until the mixture has tripled in volume.
3. Sift the ground almonds, baking powder and flour over the egg mixture and fold to combine. Fold through the extra butter. Pour into the tin and bake for 1 hour or until cooked when tested with a skewer. Allow to stand for 5 minutes before turning on to a platter.