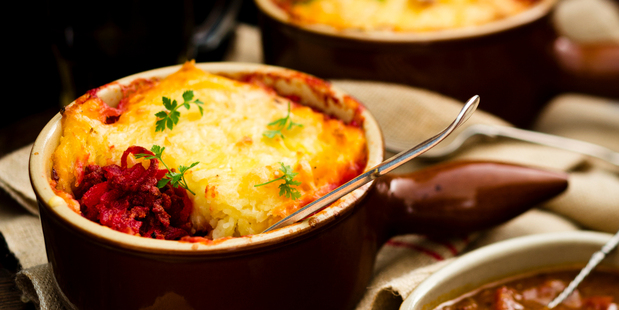 Makes 4 small or 1 large pie
• 400g agria potatoes, peeled, cut in chunks
• 20g butter
• &frac14 cup milk
• &frac14 onion, chopped finely for mash
• 1 Tbsp oil
• 1 onion, chopped
• 2 cloves garlic
• 450g minced lamb
• 150g raw beetroot, grated
• 2 carrots, grated
• 1 tsp cumin
• 1 tsp coriander
• &frac12 tsp paprika
• 420g tin tomatoes
Topping
• &frac12 cup grated tasty cheese
• 2 Tbsp chopped parsley
1. Preheat oven to 180C.
2. Boil potatoes in a pot of salted water until soft. Mash with butter and milk until smooth. Fold through the first quantity of onion.
3. Heat the oil in a pot, add the onion and garlic and cook for 3 or 4 minutes until soft. Add the lamb and brown. Use a fork to ensure you don't get clumps.
4. Add the beetroot, carrot, cumin, coriander, and paprika. Stir until fragrant, and the vegetables are starting to soften. Add the tomatoes. Simmer for 5 or 6 minutes.
5. Place the lamb mixture into an ovenproof baking dish and top with the potato. Sprinkle with cheese and parsley. Place in the oven for 30 minutes until golden brown. Serve with hot vegetables.
- VIVA