Meal pickup concept has proved popular with diners, but not the Auckland council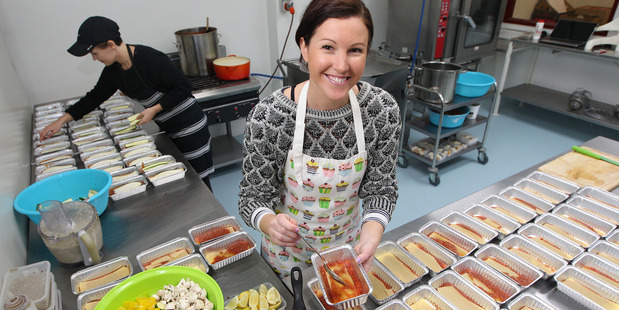 A popular food outlet drawing growing numbers of customers through social media is in a battle to stay afloat after falling foul of Auckland Council rules.
My Underground Kitchen, run by Jess Daniell, was this week named among the best fast-food options in the city by the NZ Herald's highly rated Viva magazine.
But customers who order off a revolving menu on her website, Facebook and Twitter - and then pop in and pick up the food from her Freemans Bay home between 5pm and 7pm - have been banned from doing so because of an alleged resource consent breach and food safety concerns.
The council said it had investigated after complaints from members of the public. "The operation is in breach of the District Plan as the property is zoned residential," a spokeswoman said.
She said Daniell had been told to obtain resource consent and a certificate of registration from Environmental Health because food hygiene laws required premises to be registered.
She said action such as that taken on Daniell's business was not common.
Since her run-in with the council, Daniell has delivered meals to keep her business going, and has now found a Ponsonby cafe that will allow her to use its premises for pick-ups from tomorrow.
Daniell's dinners are available on Mondays, Tuesdays and Wednesdays. She cooks the food in a rented commercial kitchen in Glenfield. Until a couple of weeks ago, punters could then pick up the $10 to $12 meals from her home in Freemans Bay.
There's usually one option a day, although Daniell also does $6 soups and a "paleo" option, and is considering desserts.
The idea came from a friend who said she wished Daniell was always around to cook for her. Daniell laughed it off but the idea stuck and a week later she had put together her first menu, offering to cook for friends in her spare time.
Other people quickly found out, though, and the business had been running for six months, cooking for more than 100 people a night, when the council called, telling her that she was not able to operate a business from her home.
She was told she had eight weeks to find an alternative venue. But then last week, two weeks after the initial call, the council's food safety division told her she had to have food-grade premises if she wanted people to pick up food.
She offered delivery only for a week but Ponsonby's La Boulange stepped in. The cafe closes at 3pm and the owners have given her free rein to run her pick-up service from there in the evening.
Daniell said she couldn't believe how quickly her business has taken off.
A copywriter by trade, she has no formal chef training. Initially, the service was aimed at young professionals without the time or inclination to cook their own meals. But now, it has spread and young families are in on the act. Daniell may offer earlier pick-ups to fit in with parents. "It's not pretentious, just food cooked with thought and care."
But she said the council was being too heavy-handed, and their stance seemed contrary to New Zealanders' idea of their country as a place that encouraged entrepreneurship.
"Some of the costs, fees and licences involved make you wonder how some businesses ever get started. I guess you just have to stay one step ahead."
What was meant to be a stop-gap between contracts is now more than a full-time job. "It's a seven-day-a-week job, but in a good way."
Two people help Daniell in the kitchen. Her boyfriend takes care of deliveries around central Auckland.
She said people responded well to how personal the business was. "You get an email from Jess, then Jess is handing the food over at the end of the day. It feels like we are friends."