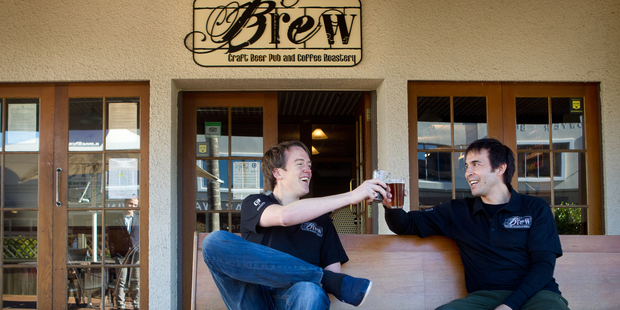 They make some of the best beer in the world and now Rotorua's Brew Craft Beer Pub can add the titles of best bar and best bar-man in town.
The craft beer bar picked up the More FM outstanding bar award at Sunday's Rotorua Hospitality awards at Skyline Rotorua.
To cap their night off, bar manager Jonathan "Jock" Dalby won the Beam Global outstanding bartender award.
Brew co-owner Paul Croucher - brewer from Rotorua's award winning Croucher Brewing Company - said it was an awesome feeling to be honoured by his peers in the hospitality industry.
"Even though we are competition they have helped us out a lot in the two years we have been open.
"We've had regulars coming here since day one and they are hugely significant to our success," he said.
Mr Croucher said there were a lot of small things that made up a really great bar.
"Our current bunch of staff are amazing, they make the hard yards look easy," he said.
Mr Dalby has only been in Rotorua for a year and said his award was not just for him - it also recognised his great team of staff.
"Everyone who works here goes above and beyond.
"It's been a pleasure being here and serving the people I serve here everyday," he said.
Triple 1 Five owner and vice president of the Rotorua Restaurant Association John Knight said the awards would not have been such a success without the generosity of sponsors, in particular, Gilmours.
He said Gilmours sponsored the first awards last year and continued their generous support this year.
"Quite simply, these awards wouldn't have gone ahead if it weren't for them," Mr Knight said.
For more articles from this region, go to Rotorua Daily Post