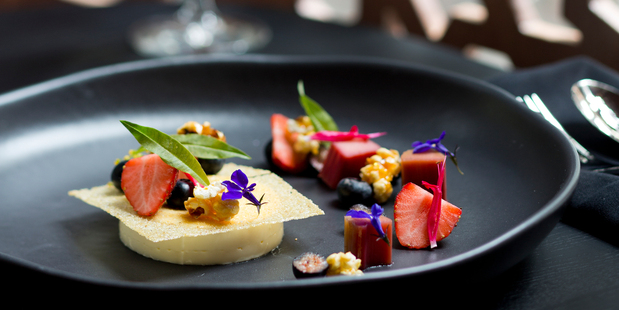 We're officially addicted to Milse (pronounced mill-say) and we know you will be too, once you experience this intimate new Britomart eatery, which makes no excuses for being all about the sweeter things in life.
Master patissier Brian Campbell is at the helm of this enchanting venture offering three, five and seven-course dessert degustations and a la carte menus, matched, if you wish, with Chateau d'Yquem Champagne, dessert wines or a sophisticated cocktail or spirit.
Tucked into a tiny laneway between Tyler St and The Pavilions, Milse is one of the most gorgeous-looking restaurants and bars to open this year - from the intricate curved lattice walls and ceiling to the windows in the dining room offering a sneak peek into secret inner-courtyard gardens behind the design stores.
The 20-seater dining room and bar cocoons you in its own magical world, and watching the team of dedicated pastry chefs creating such sublime treats as this lemon verbena cream, rhubarb, popcorn and berries dessert (pictured) is simply mesmerising ...
and you'd have to be super-human to resist the sweet, tantalising aromas of sugar mingling with chocolate and caramel and the exotic scents of rose and vanilla that lace the air with their perfumed notes.
Out front, the gleaming cabinets show off Milse's takeaway treats - gelato on a stick, dessert pots, mini bombe Alaska, handcrafted chocolates - all ready to be boxed up as gifts and whisked away. Open seven days, from 9.30am 'til late, no reservations.
• The Pavilions, 27 Tyler St, Britomart.
- VIVA