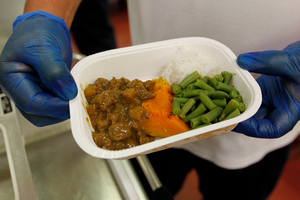 It's probably no surprise that the most popular dishes served from Waikato Hospital's enormous kitchen are its roasts.
Roast chicken, beef and pork are teamed with roasted kumara, pumpkins and potatoes, peas and gravy.
"We get quite a few people asking for seconds," a kitchen hand tells me.
It's too early in the day for a roast but I try a couple of dishes from the Waikato DHB's Meals on Wheels service.
MasterChef it is not but today's selection of pork chow mein served with rice, beans, pumpkin and a choice of mashed or scalloped potatoes is simple, fragrant and palatable. A reasonable beef curry with pineapple and sultanas is another choice.
Themeals are a decent size and are delivered in microwaveable packages. Clients are also given a choice of fruit and a dessert, not bad for $8, including delivery.
Waikato DHB's dietician and manager of nutrition and food, Wendy Dodunski, says apart from 50,000 meals on wheels, kitchen staff also provide lunch and dinner for hospital patients, and all the cafeteria's cooked food. And they even do birthday cakes for patients.
"The people here really care about what they do."