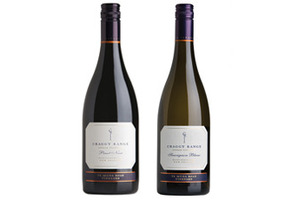 It's not often you get to try a vertical flight of New Zealand pinot noir from a single vineyard from one producer.
The Craggy Range Te Muna Vineyard in Martinborough is a unique site and a good place to meet head honcho and Master of Wine, Steve Smith.
"I hadn't grown grapes here before and found it a challenging and interesting place ... the first 10 years are the most influential decade - you see if you got it right."
A former scientist, Smith speaks with convincing eloquence of the geological makeup and special qualities of the limestone-infused soils of Te Muna and its great pinot noir-producing properties.
Ultimately, of course, the result is what finishes up in the bottle and the journey from 2002 until the present is most impressive.
"After 10 years you get to understand what is happening in the vineyard, you see a young vine growing into a mature one and learn to deal with the idiosyncrasies of youth," says Smith.
I decide to taste backwards, that is from 2011 to the first vintage of 2002, on the theory that the most recent vintages will be less complex, more straightforward, open and accessible.
Taste is subjective and on the way through there are some surprises. For example, 2002 to 2004 all have that slightly brown-rim tinge that comes with age, and although still drinking well, are starting to lose some fruit expression and tending towards a tobacco prune-like flavour that is a pleasant change from over-bright fruity pinots. Smith says those early vintages were tough with some unkind conditions including the 2003 frost at flowering.
Smith says "the penny dropped" with the 2005 and 2007 vintages and his team realised they didn't need to overripen the grapes.
"Everything started to feel a bit more comfortable. It was the first time all the stars were aligned for us," says Smith.
"It was a classic vintage for us and an indication of the wine we were hoping to make off this vineyard."
Te Muna Road is now soaring and recent vintages are producing the kind of textural, rather than fruit-flavoured wines they're after.
"Beautiful" and "graceful" are the two words Smith wants to hear about these pinots and the Craggy Range team is headed in the right direction.
"This vineyard has the potential to become one of the truly great vineyards," says Smith.
"The next years will not be as dramatic as the first."

Recommened
2011 Craggy Range Te Muna Road Vineyard Pinot Noir - $43

Still incredibly youthful and obviously will reward cellaring but, in the meantime, expect restrained red fruit flavours with lots of fragrant spice and that earthy character and complexity that is the mark of classy pinot noir.
2012 Craggy Range Te Muna Road Vineyard Sauvignon Blanc - $24
It's not all about pinot at Te Muna Road. This sauvignon is beautifully balanced, with expressive flavours of limes, peaches, apples and dry herbs. Blissfully refreshing and finishing dry.