Address:
29 Totara Ave, New Lynn
Phone:
(09) 827 3313
Rating out of 10:
Food: 7, Service: 8, Value: 8, Ambience: 6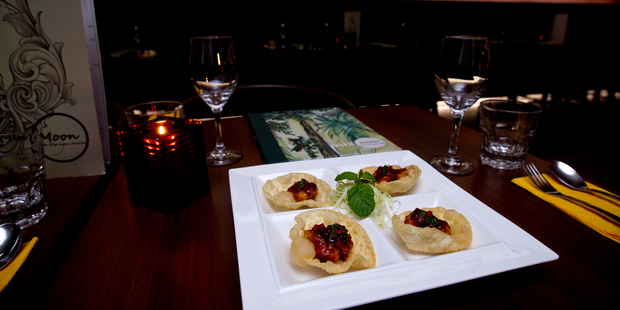 New Lynn's Malaysian restaurant, MixMoon, fits well with the ongoing facelift of the suburb, which until now was one of West Auckland's more dilapidated outposts. Like the remodelled shopping centre, with its offbeat sculptures, beautifully restored old buildings and classy new ones, MixMoon is elegant, sophisticated and (unless you're unlucky enough to be seated right down the back) a thoroughly pleasant place to eat.
The service is excellent in that soft and delicate Malaysian way, while the cuisine encompasses Southeast Asian dishes including Japanese, Thai, Vietnamese, Indian and Indian Muslim. Every dish is beautifully presented and flavours are superb.
We started with a series of appetisers to share. The "crispy moon" fried wontons, topped with prawns and sambal sauce, were superb - crunchy wontons, tender prawns topped off with a zingy fresh-tasting, thin sauce. Next came curry puffs stuffed with a tasty curried potato mix.
Thoughtfully, our waiter inquired if we wanted one each - one more than the advertised three pieces - so we didn't have to tear them apart, which reflects the attentive service.
They were accompanied by traditional Thai fish patties, which we didn't rate. Our last choice though, the tiny takoyaki Japanese octopus balls, proved the perfect mouthful.
They arrived, pretend tentacles shivering and, like all the other entree plates, decorated in some way. My favourite was the tiny slivers of red chilli sitting symmetrically on basil leaves.
Our main courses arrived on beautifully laid-out large oblong plates, which were difficult to fit in the centre of the table, but since we all wanted to try everything, our waiters happily jigsawed them in, smiling the whole time.
This was my second visit to Mixmoon and I'd been dreaming of the roti ever since.
It was better than ever: crisp, toasted on the outside with a thin but fluffy centre.
It almost seemed a crime to plaster it with fragrant chicken chennai or beef rendang. Rendang is one of my favourites and I would have liked it cooked more towards melting, but once we got used to the texture it really was pretty good.
We liked our Malay curry chicken with potatoes so much that not a morsel was left. Last to come was the irresistible "crying tiger", which had been chosen on name alone. It turned out to be a Thai knockout: rare chargrilled sirloin steak, sliced thin and topped with sprigs of salad. You could taste the smokiness and the Thai marinade while the nam jeou sauce kicked the whole thing along splendidly.
But this was not the end. Dessert, too, had been on my mind since last time and I was determined to again have MixMoon's fabulous sago pudding with coconut and palm sugar caramel, leaving the others to choose hot, salty and sweet bananas with coconut milk; mango sticky rice (delicious); and sweet corn with long thread coconut (spectacularly awful - think kernels of boiled corn, sprinkled with coconut).
All evening we were treated like royalty. Our plates and cutlery were changed between each course, our drinks replenished, our every wish immediately attended to, which was a far better experience than last time we visited. That night the restaurant was full and we were down the back looking straight into a toilet, which rather spoiled the ambience.
Be sure to ask for a table elsewhere if it happens to you.

Our meal: $251 for four
appetisers, mains and desserts, plus a virgin Mojito, a bottle and two glasses of wine and two coffees.
Wine list: Surprisingly good. A short, well-chosen selection of all wine types and cocktails plus BYO at $10 a bottle corkage.
Verdict: A well-priced, elegant and sophisticated restaurant offering the best of Thai and Malaysian service and style, and a range of wider Southeast Asian cuisine.