Herald Rating:
4/5
Address:
911 New North Rd, Mt Albert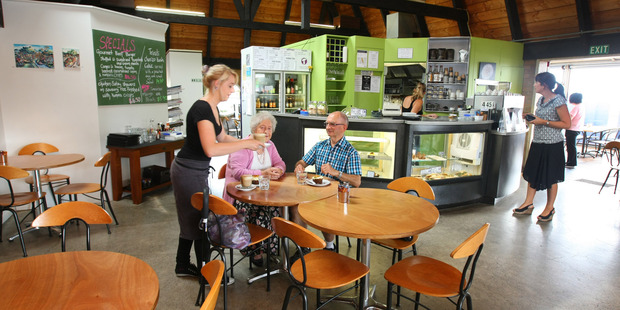 We came here because we'd driven past a few times and were intrigued by the name - and the tower-like corner of the building.
Parking was no problem on the street this particular Sunday morning.
We walked in and immediately thought it was a tidy and spacious cafe, with an inviting covered outdoor area.
The most unusual thing on the menu was the menu itself. The introductory pages detail the ingredients - from free-range hens and animals - and a lengthy account of the coffee and styles available. The menu also explains that items listed in green are suitable for vegetarians.
We ordered the pancake stack with grilled banana, apricot and vanilla yoghurt, maple syrup and free-farmed bacon ($17.50); the pesto field mushrooms with feta cheese and slow-roasted tomato, stacked into wholemeal walnut toast ($13.50), the Triniti works breakfast of free-farmed bacon, organic breakfast sausages, hash browns, free-range eggs, with onion marmalade and tomato relish on wholemeal walnut toast, with button mushrooms (or black pudding, $19.80); and eggs benedict - free-range poached eggs drizzled with house hollandaise on lightly toasted brioche bread, served with wilted spinach and smoked salmon ($17.20).
Of course, bacon could be swapped for the salmon here. Sides of hash browns were a reasonable $3 for two but two rashers of bacon cost $5.50 - a tad expensive, I thought. All well presented and tasty.
The service was excellent. Very helpful, friendly and attentive. It was very busy at Triniti this morning, so they can be excused for being a bit slow.
The coffee was very good, as was the hot chocolate.
Overall we thought Triniti is worth a trip to Mt Albert for.