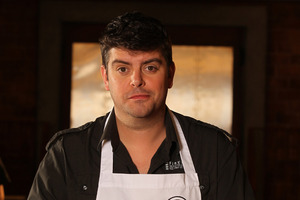 David Jamieson knew baking was going to be his Achilles heel, so he wasn't surprised when a sponge cake ended his MasterChef New Zealand ride.
Despite knowing that he wasn't much of a baker, David didn't do his homework before the reality cooking show began.
"I went in with a game plan that I was going to cook to my strengths," the New Zealand-born, Melbourne-based bartender said.
"I probably should've taken it a bit more seriously.
"I never went in to MasterChef with the aim to make cooking a profession."
Last night the top 10 faced their first baking challenge. Many contestants were keen to see "culinary rockstar" Aaron toppled from his reign, and viewers were keen to see if it could be done.
Baker and owner of Auckland's Dulcie May Kitchen, Natalie Oldfield, entered the MasterChef kitchen as a guest judge of the challenge: "To first create the perfect sponge cake, and then turn it in to a MasterChef spectacular."
Oldfield's top tip: "Put love in to what you're doing, I can't say it enough."
It was the first sponge cake for many of the contestants. From the outset, David wasn't confident that he would be able to pull off the technical recipe. And his flavour combination sounded risky.
"I want to do some balsamic macerated strawberries with fresh basil and just see how that works. I know the flavours all work pretty well together.
"I might want to put some black pepper in with the strawberries," he told judge Ray McVinnie.
Judge Simon Gault was excited to try it because it was so different. But he quickly changed his mind after a mouthful.
"You're better than this. I'm cross with you because you should be in this competition and you've given us a cake that could send you home," he said.
Oldfield "didn't really like it" and McVinnie said it wasn't sweet enough.
David stood in the firing line alongside fellow sponge flops Elliot (who reckons his only attempt at a sponge had ended in divorce) and Dana, whose presentation was a mess.
Gault continued to take the disappointed school teacher tone with David. "I said I was cross with you, and I still am."
Judge Josh Emett said it was a "tragedy" that David had been beaten by a bake-off because he is a great cook.
David didn't seem fazed by his departure.
"I took a risk. It didn't pay off."
•MasterChef New Zealand screens on TV One on Sunday nights. www.nzherald.co.nz will interview every contestant as they are eliminated.
Go to nzherald.co.nz for Hugh Sundae's take on the show