Address:
97 Victoria Rd, Devonport
Phone:
(09) 445 2037
Rating:
3/5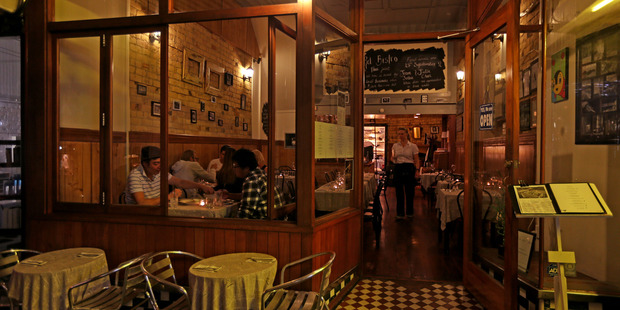 It has always puzzled me that Devonport is so short of decent places to eat. They're a generally couth sort of people over there, the ones I know anyway. Hell, they even have a food and wine festival in February.
The reinvented Esplanade, offering some creditable food and a bit of white-linen style, was a nice addition to the landscape, but is not going to feature on any diner's best-of list any time soon.
The fact that no Devonport resident of my acquaintance had mentioned the Victoria Rd Bistro since its September opening rather suggested it was making more of a ripple than a splash in dining options in the pretty waterside suburb.
And so it proved. Though it's reasonably good value - only two of the main dishes, the paella and a steak frites, top $30 - the quality is variable and the service sometimes vague. (I spent three minutes at one point staring hard at the two waitresses, willing them to cast an eye in the direction of the crowded restaurant, but I finally had to wave to get attention).
It's a welcoming space that owners Jason Selbie and Julia Chen have created in what was previously a Thai restaurant. It's nothing flash in terms of design but warm wood and exposed brick never goes out of style and the walls are full of funky photos that, we are told, represent who they are. One of them evidently likes Marmite.
Accompanied by a Devonport couple - she's a colleague of the Professor; he's an IT whizz who confirmed my uneducated opinion that the Novopay debacle is the most unconscionable failure of management since Gallipoli - we stopped in on a Friday night in late March. The "summer menu" that we were offered will presumably be changing this month, but its composition gives you some idea of what to expect with the change of seasons.
And what to expect is the expected. There is nothing here to frighten the horses, or excite even a slightly curious diner. The mains of fish, pork belly, steak, lamb and chicken breast made me feel so tired I wanted a lie-down. Even the less obvious duck pappardelle and paella seem very conservative choices.
In fact, the word bistro in Europe refers to a much homelier place than this, where the meals are hearty and home-cooked. Here, it's used by much fancier eateries and that's the vibe VRB is trying for. But the food - from the arancini bar snacks to the chocolate tart dessert - lacks great imagination.
Doubtless it's a commercial decision: the bistro's custom will be mostly neighbourhood people, not those who take the long traffic-choked drive, and you want to start simple to get return custom. But it seems like a missed opportunity.
The Prof is always a sucker for a bit of grilled haloumi but this bit, accompanied by beans and balsamic reduction, lacked the tooth-squeak factor that is the mark of an excellent piece of that wonderful cheese. My lamb sweetbreads, panko-crumbed, were moist enough, but a very salty gravy, which I'm pretty sure put in an appearance with one of the main dishes later, quite overwhelmed their taste.
A scallop risotto was built around those fat Atlantic scallops, even though our season still had a week to run, which seems to me a bit rich in a place that prides itself on fresh and local. The feta with the beetroot carpaccio was extremely subtle (this is not a compliment) and the dish as a whole (walnuts and a dab of microgreens) positively austere.
Mains were more cheerful: the twice-cooked pork belly seemed more like a piece of rolled loin, although it was nicely roasted and the lamb rump, with Mediterranean veg and chickpea was one of the evening's more coherent ideas.
It will come as no surprise to you that the dessert list included a creme brulee (though they call it Cambridge burnt cream; it appears the French and the English have a pavlova-style argument as to which came first) and it was nice enough to console me when I was told that the baked cheesecake was not available.
It's worth repeating that this was a three-course meal (shared dessert) that costs barely $50 a head excluding drinks, so VRB delivers value for money. But as an addition to a part of town that is crying out for a really good restaurant, it falls short.
Verdict: Hit and miss