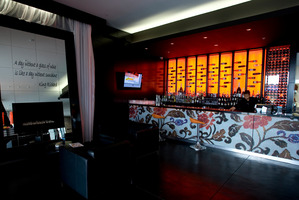 Fake reviewers targeting a North Shore restaurant have been banned from a dining website for life for writing glowing feedback allegedly plagiarised from foreign websites.
Administrators of DineOut.co.nz today banned the user accounts of seven reviewers who posted on the website this year about Spanish restaurant Bolero at the Westfield mall in Albany.
It is not clear who wrote the feedback, and restaurant management denied knowing about the reviews or their removal.
The restaurant review site allows customers to write feedback about their dining experience, scoring the restaurant on food, presentation, service, and environment as well as a description of their experience.
However, administrators became suspicious when Bolero suddenly received 10 glowing reviews this year; a number they would usually receive over two years.
Further investigation found much of the feedback was false, and appeared to have been been cut and pasted from review sites in London, Spain and Dubai.
"Lighting was subdued, and the candlelit areas were pleasing to the eyes. We enjoyed impeccable service for the duration of the meal, and the waiters' attention to the younger members of the family was laudable," said one review that gave the restaurant a score of 9.3 out of 10.
"Been there last Saturday afternoon, The restaurant has superb atmosphere. A pianist/singer sang spanish songs was excellent. Perfect songs at a perfect level for this elegant yet easy going restaurant," said another rating it 8.5.
"That's why they looked like real reviews, because they were; they just were not real reviews for Bolero," said DineOut.co.nz administrator Chris Dempsey.
Bolero restaurant co-owner Sam Sikka, who took over the business last month, and former owner Huseyin Yildiz said they were not aware of the reviews or their removal by the website.
"I don't know about that because we just took over. This is the first time I'm coming to know about that," said Mr Sikka.
Banning a user from the site is rare, with only one instance this year and two last year, said Mr Dempsey.
Owner of rival Westfield Albany restaurant Mama Loco said negative reviews allegedly sabotaging his restaurant had also been deleted from the website.
Owner Gareth Hookham said it was "disappointing" if people are writing false reviews because it caused lost confidence in the site, which is a valuable way of getting customer feedback.
A Westfield spokeswoman said they were investigating claims about reviews regarding the two restaurants, but declined to comment further.
Restaurant Association of New Zealand president Mike Egan said the false reviews were disappointing, as restaurant review websites were highly valued by customers when deciding where to dine.
However, he cautioned that feedback about restaurants "should be taken with a grain of salt", and diners should look at the average scores received by a restaurant rather than those that are extreme.
Mr Egan said if a reader saw a review by a person who had done only one review it may not carry much credence, "but if someone has done maybe 100 reviews of 100 different restaurants you might read their review and think that carries a bit more weight."
He said business owners had the right to challenge feedback on websites if reviews were misleading, such as one diner claiming it had been the worst breakfast of their life at an eatery that didn't serve breakfasts.
Instances of sabotaging a competitor's business were very rare, Mr Egan said.
- APNZ