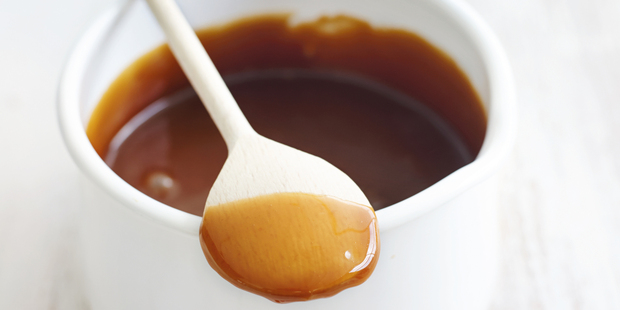 Salted caramel. Photo / Donna Hay Magazine
Makes 2 cups
• 1 cup pouring cream
• 50g unsalted butter
• 1 ½ cups white sugar
• ½ cup water
• 1 tsp sea salt flakes

1. Place the cream and butter in a small saucepan over medium heat and bring to the boil. Remove from the heat and set aside.
2. Place the sugar and water in a medium saucepan over low heat and cook, stirring, until the sugar is dissolved. Place a sugar thermometer in the pan and increase the heat to high. Bring tothe boil and cook for 10-12 minutes without stirring, until the temperature reaches 150C and the mixture is a deep caramel colour.
3. Remove from the heat and, working quickly, add the salt and cream and butter mixture, whisking to combine. Return to the heat and cook for a further 2 minutes or until thickened slightly.
4. Remove from the heat and allow to cool completely before serving.

Try these salted caramel recipes