Turn up the heat with refreshingly authentic Thai flavours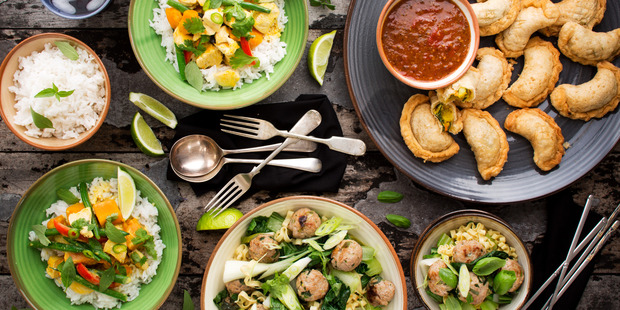 To get you in the mood while you're planning your mid-winter escape, or even if you're having a "staycation" this year, here are some delicious recipes to transport you to exotic locales.
We are fortunate to live in a culturally diverse city and finding ingredients outside the norm is no longer a challenge. Indeed, visiting local markets and stores specialising in foreign flavours can be almost as inspiring as boarding a plane and going to the original source.
When you travel it's always exciting to try unusual dishes and ingredients, so why not do the same next time you are out shopping. Chat to the store owners about how they cook and use the products. This will encourage you to experiment and help you get a more authentic flavour in your cooking.
At our house we are fortunate to have an international student, Bam from Thailand, staying with us and we enjoy creating dishes that remind her of home. These vegetarian curry puffs are always a hit.
Be creative with the fillings - you can add in everything from tuna and sardines, to cooked chicken. They are simple to prepare and can be made ahead of time. Later you can then deep fry or cook them in the oven. (Just thinking about biting through the crunchy pastry into the spicy filling makes my mouth water.)
I serve these puffs with a homemade spicy tomato relish, sweet chilli or a yoghurt dip. The puffs are also great cold the next day for lunch and help fill school lunch boxes. If you don't want to make your own pastry, bought puff pastry is absolutely fine.
This pork noodle bowl is another meal which is quick and easy, making it perfect for mid-week dinners. Sometime I serve the pork balls alone with a plum dipping sauce, but here they become a more substantial meal, with greens and noodles added.
This is a family favourite and Bam loves it. If you can't find bok choy, simply add any other green leaves - Chinese cabbage or spinach are equally delicious.
Another favourite is this Thai curry; make it once and you will see how simple it is. The thing to be aware of is the chillies - the smaller they are the hotter, so maybe play it safe the first time and only use half the amount. Coconut milk is a Thai favourite, used a lot in very sweet desserts with fruit and rice puddings as well as savoury dishes. It works to add that subtle exotic flavour.

Recipes
• Vegetable curry puffs
• Pork noodle bowl
• Thai green curry with pumpkin

• For more of Angela Casley's fabulous recipes, visit foodhub.co.nz
- VIVA