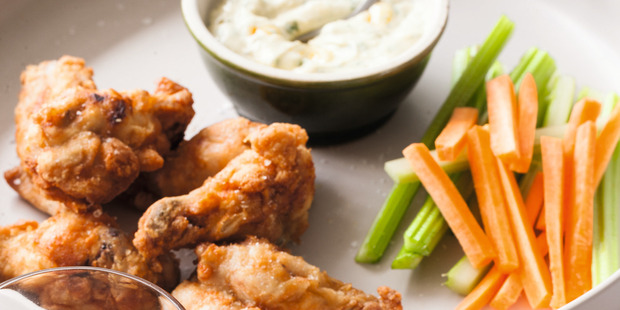 Behold, my ultimate signature dish! Before this book, only two people had the recipe, but I want to share it with you because it's too good to be kept under wraps. I'm not even going to be modest: I think one of my crunchy chicken nibbles dunked in creamy blue cheese sauce is as close to taste perfection as you can get - and my friends and family agree! We've spent many a sunny afternoon on the deck with a cold beer in hand, a giant pile of wings in front of us, great music playing and a game of cards on the go. Now you can do the same. Enjoy!
Serves 4
Aioli
• 1 free-range egg
• 1 clove garlic, roughly chopped
• 2 tsp lemon juice
• 1 cup rice bran or canola oil
• 100g blue cheese, chopped roughly
• 1-2 tbsp finely chopped fresh parsley leaves
• salt and pepper
Hot sauce
• 100g butter
• 1 x 60ml bottle Tabasco
• 1 tsp smoked paprika
• 1 tsp sugar
• 1 tsp salt
Nibbles
• ¾ cup plain flour
• 2 tsp salt
• 1-2kg chicken nibbles
• rice bran or canola oil for frying
•carrot and celery sticks to serve

1. To make the aioli, place the egg, garlic and lemon juice in a small food processor and blend until well mixed. With the motor running, slowly add the oil in a thin stream. The mixture will thicken.
2. Add the blue cheese and parsley, and process until well combined. Taste and season with salt and freshly cracked black pepper. Set aside.
3. To make the sauce, slowly melt the butter in a small saucepan without stirring. Gently pour the yellow liquid into a bowl, leaving the white milk solids behind. Discard the milk solids. Add the whole bottle of Tabasco, paprika, sugar and salt, and whisk to combine. Set aside.
4. Preheat the oven to 50°C.
5. Mix the flour and salt in a bowl, then toss the nibbles in the mixture to coat. You may need more flour and salt, depending on how many nibbles you have. Set aside while you heat the oil.
6. Fill a saucepan with enough oil to half submerge the nibbles and heat to medium-high. Cook the chicken in batches for around 4-5 minutes on each side until golden brown and cooked through. Drain on paper towels, sprinkle with salt and place in the oven to keep warm while you cook the remaining nibbles.
You can either coat the chicken in the hot sauce, or serve it on the side as a dip along with the blue cheese aïoli. Add some carrot and celery sticks to the plate to serve.