Hearty recipes that take 'food as fuel' to new heights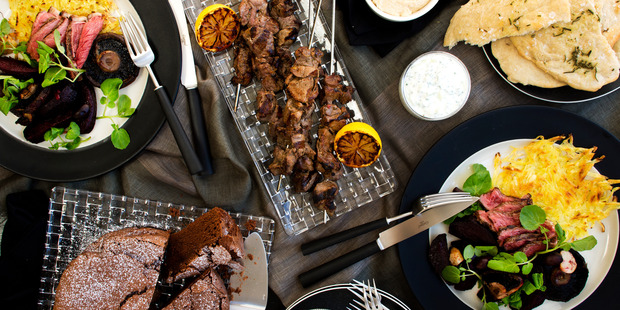 Back at my swimming group last week after a summer break, I happened to catch the coach sneaking a copy of Viva into his bag to take home. He pulled it back out and we began to discuss his favourite parts of the magazine and the conversation soon turned to how I was preparing for this week's special men's issue. Soon, the other guys from the swim squad were joining in and the suggestions started coming thick and fast: "Three ways with mince", "barbecues", "what to do with venison", "how to make a nice cut of meat go a long way".
When it came to dessert, the vote was unanimous. It had to be chocolate. (Really, we go to swim and train but the coffee afterwards is always a highlight and a chance to discuss such important matters!)
This enthusiastic discussion around recipes was a good reminder that so many of our men love to cook - as a form of relaxation, an outlet for creativity, as a way to nurture their loved ones and for pure enjoyment. It's not always about food as fuel.
The list of ingredients for today's steak and salad does look daunting, but you will find most of them already in your cupboard. Large flat mushrooms are added to beetroot to make for a substantial salad, while the sweetness of the beetroot and saltiness of the olives work to intensify the flavour.
If you have any vegetarians in the house, add some cooked chickpeas or beans and this salad will work as a meal in itself. Be warned: juniper berries have a bittersweet flavour with a peppery aftertaste. This is not a spice you just throw in - three or four berries will be plenty. They are usually used with lamb, beef and game, and are great for marinades.
I have served the steak with a delicious potato rosti. Simply grate potato, squeeze out the excess water, season with pepper and salt, then fry in a little olive oil.
Next up: lamb souvlaki. There is nothing like the smell of meat cooking over charcoal. In countries like Turkey you rarely see gas, but given our busy lives, it is how we mostly barbecue. Whether you use a leg or shoulder of lamb, make it go further by dicing it, marinating it and putting it on skewers.
To go with the lamb, make flatbread and add some tasty accompaniments you have either sourced or made yourself to create a sumptuous meal. Souvlaki is traditionally served in Turkey with yoghurt, cucumber and mint, and you can also add your own favourite hummus, olives, or chutney. Flatbreads are fun to make; shapes can vary and a rustic look is fine. Add some cumin seeds, herbs or sea salt on top for extra flavour. Flatbreads can also be cooked on the barbecue. Give it a go.
Chocolate and rum cake is delicious - what more can I say? A dollop of icecream or yoghurt is all it needs. If you are feeling daring, try adding a tablespoon of soy sauce to one litre of softened vanilla icecream and refreeze before eating. You'll be pleasantly surprised.

Chef's Tip
When cooking meat, especially marinating, always add the salt at the end. It will draw the juices from the meat if added too early.
Recipes
• Sirloin steak with roasted beetroot and watercress salad
• Lamb souvlaki with flatbreads
• Scrummy chocolate and rum cake

For more of Angela Casley's fabulous recipes, visit foodhub.co.nz
- VIVA