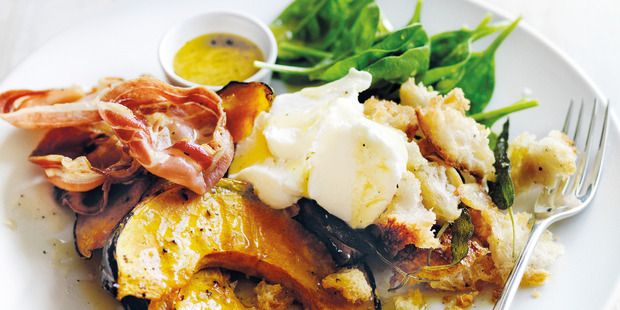 Serves 4
• 1kg pumpkin, cut into wedges
• 2 Tbsp olive oil
• Sea salt and cracked black pepper
• 200g sliced round pancetta
• 100g baby spinach leaves
• 200g goat's cheese, crumbled
• 2 cups sage sourdough breadcrumbs, (see previous page)
Honey mustard dressing
• 1 Tbsp honey
• 1 Tbsp white wine vinegar
• 1 tsp Dijon mustard
• 2 Tbsp olive oil
1. Preheat oven to 200C. Divide the pumpkin, oil, salt and pepper and between 2 baking trays lined with non-stick baking paper and toss to combine. Roast for 10 minutes.
2. Add the pancetta slices to the trays and roast for a further 20-25 minutes or until the pumpkin is tender and golden and the pancetta is crisp. While the pumpkin is cooking, make the dressing.
3. Place the honey, vinegar, mustard, oil, salt and pepper in a bowl and whisk to combine. Arrange the pumpkin, pancetta, spinach leaves, cheese and sourdough crumbs on plates.
4. Sprinkle with salt and pepper and drizzle with the dressing to serve.
For more recipes visit the Donna Hay website, www.donnahay.com.