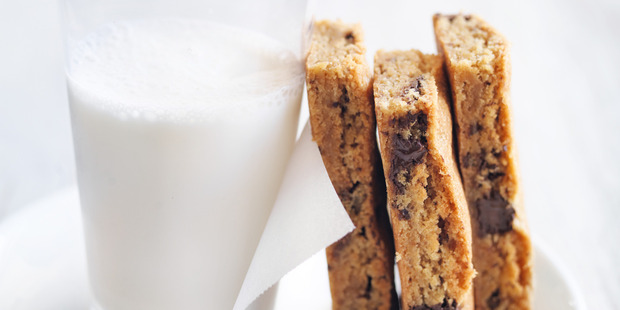 Double-chocolate cookies. Photo / Donna Hay Magazine
Makes 28
• 250g unsalted butter, softened
• 2 ½ cups brown sugar
• 1 Tbsp vanilla extract
• 2 eggs
• 3 cups plain flour, sifted
• 1 tsp baking powder, sifted
• 150g dark chocolate, chopped
• 150g milk chocolate, chopped

1. Preheat oven to 180C. Beat the butter, sugar and vanilla with an electric mixer for 8-10 minutes or until pale and creamy.
2. Gradually add the eggs, beating well after each addition. Add the flour and baking powder and beat until a smooth dough forms. Add the chocolate and mix until well combined.
3. Press the cookie dough into a lightly greased 30cm x 40cm baking tray lined with non-stick baking paper. Bake for 25-30 minutes or until golden.
4. Allow to cool in baking tray and cut into rectangles to serve.

Tips and tricks
Mix it up: Try making the giant choc-chip cookies with a mixture of
dark and white chocolate buttons. They are best eaten warm.