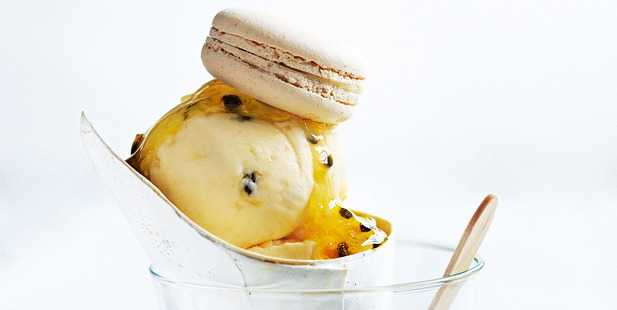 Passionfruit and coconut macaron sundaes. Photo / Donna Hay Magazine
Serves 4
• 2 litres store-bought vanilla icecream
• 8 store-bought coconut macarons
Passionfruit syrup
• 2 cups caster sugar
• 2/3 cup water
• 1 cup passionfruit pulp (about 10 passionfruit)

1. To make the syrup, place the sugar, water and passionfruit pulp in a medium saucepan over low heat and stir until the sugar is dissolved. Increase heat to medium and bring to the boil. Cook for 17-20 minutes or until reduced. Refrigerate until cool.
2. Place the icecream in an electric mixer and beat on low speed for 1-2 minutes or until softened.
3. Stir through half the syrup, transfer to a container and freeze for 3-4 hours or until firm.
To serve, scoop the icecream into cones or cups, spoon over the remaining syrup and top with the macarons.