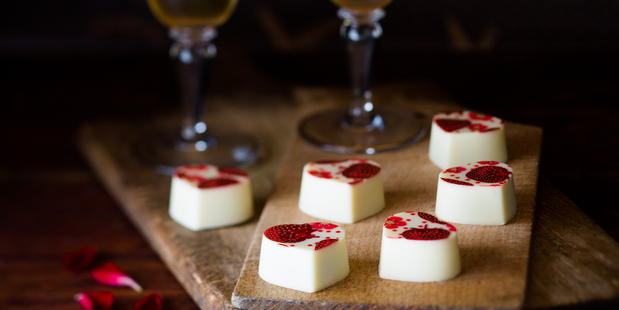 It has been proven that eating chocolate brings on intense feelings of pleasure and happiness. At least that's what our internal research at Viva has concluded!
Regardless of what the medical experts might tell us, chocolate has got to be good for your heart, because the very act of receiving a box of beautifully handmade chocolates lifts the spirits, makes the mood a little lighter, brings on a slightly swoony air ... and that's before we've even popped one of the little beauties into our mouths. Imagine the pleasure as the outer shell of a voluptuous dark chocolate heart snaps and crumples, giving way to a soft centre of smooth, rose-scented ganache ... Aah, let the love flow.
Just in time for Valentine's Day, Sally Meikle has opened a new Colestown Chocolates store on Queen St. Sally prides herself in using only the finest Callebaut chocolate from Belgium and fruit purees from France. Each chocolate is crafted individually.
If the special day has been off your radar and a gift has yet to be sorted, drop into this gorgeous shop and splash out on a box of exquisite chocolates, each one lovingly hand-dipped and decorated. We love the strawberry and balsamic love hearts, the Caribbean-inspired white peach and coconut with a splash of Malibu and the zebra praline. Pure bliss.
•174 Queen St, City. Ph (09) 377 7512. Open seven days 9.30am-6pm (7pm Thurs and Fri).
French antique boards, $39-$69, from La Cigale, ph (09) 366 9361.
- VIVA