New Zealand's favourite white wine, sauvignon blanc, came under sustained attack by Australian winegrowers this week. But was it justified?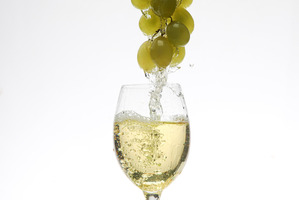 Sauvignon blanc put New Zealand wine on the world stage and, despite grumbles from Australian winemakers, there by and large is where it deserves to stay, say New Zealand experts.
"New Zealand should be proud. If you pick up any wine book, anywhere in the world and look up sauvignon blanc, it'll say Marlborough, New Zealand. It's carved out its own unique style," says the owner of The Grove restaurant, and wine expert, Michael Dearth.
"It's put New Zealand on the world stage."
New Zealand's sauvignon blanc exploded on to the wine scene in the 1990s after well-known critic, Oz Clarke, wrote it was "arguably the best in the world".
The Queen's cellar experts selected 40 cases of Villa Maria Estate's private bin sauvignon blanc and 30 cases of Palliser Estate Wine's Pencarrow sauvignon blanc 2010 for inclusion in her 5000-bottle wine cellar.
Yesterday it emerged that British ministers and officials worked their way through 5000 bottles of wine from the Government's wine cellars and though French wine was most popular, they drank four times as much New Zealand wine as Australian.
But Mr Dearth says some sauvignons are getting a bit of a reputation.
"People often shop for price, or shop on looks - what the bottle looks like - and they can find that, 'oh, that's a bit too acidic', or, 'oh, I don't really like that one'," he says.
"But there are some truly excellent ones out there."
The wine's image hasn't been helped by a recent attack from the Australian wine industry.
James Agnew, who has a family-run vineyard in NSW's Hunter Valley and is the former chair of the NSW Wine Strategy, was recently reported as saying New Zealand's savs are "the McDonald's of wines".
Mr Dearth doesn't agree - he loves a good local sauvignon, especially on a hot afternoon with a couple of oysters.
It's opened a lot of doors for other New Zealand wines, such as syrah, riesling and gruner veltliner.
Sommelier at The Oyster Inn on Waiheke Island, Claire Dunleavy, says because New Zealanders have grown so accustomed to drinking savignon blanc, they are more open to trying other varieties.
"Excuse the pun, but we're becoming much more savvy with our savies. People ask for different regions and can tell the difference," she says.
"They're also asking for wines like viognier. That wasn't happening before."
But Ms Dunleavy says our sauvignon blanc is as high quality as ever.
"I wouldn't say for a second that the quality of our sav could be called into question."
What Aussies said
*It's the McDonald's of wines. You can go all over the world but a Big Mac is still a Big Mac. James Agnew, who has a family-run vineyard in NSW's Hunter Valley and former chair of the NSW Wine Strategy.
*It's become homogenised, obvious, generic. Christina Tulloch, general manager of Tulloch Wines.
*Acid ... passionfruit ... body odour ... cat's pee ... lantana."Bruce Tyrrell, of Tyrrell's Wines.
Australian winegrowers attack New Zealand sauvignon blancs in the Sydney Morning Herald.
http://goo.gl/n3LKf