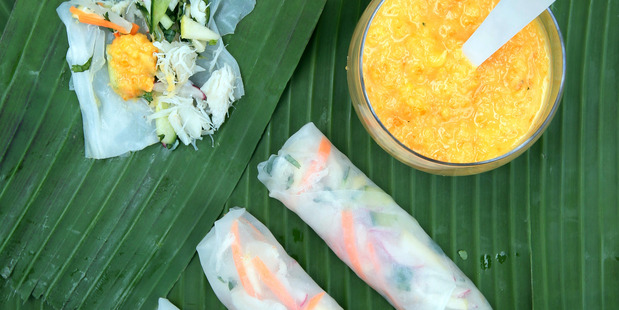 1. Cut the following into matchsticks: peeled carrot, radish, apple, palm hearts (you can buy these canned).
2. Add some coriander leaves.
3. Mix with fresh crab meat.
4. Season with a little lime juice, honey and salt.
5. Soak the rice paper wrappers in warm water
until pliable.
6. Working a couple at a time, run the mix from point
to point across the wrapper.
7. Fold in the side points to hold the mix.
8. Roll from the point facing you.

Serve with this dip (makes enough to flavour about 12 rolls)
1. Blend the following in a food processor until
very smooth:
• 2 mandarins, cut in half with seeds removed but skin on
• 2 cm of lemongrass, chopped
• 2 Tbs of rice wine vinegar
• 2 Tbs of lime juice
• 2 Tbs of honey
• 1 Tbs of rice bran oil
2. Strain through a sieve to remove any tough fibres.