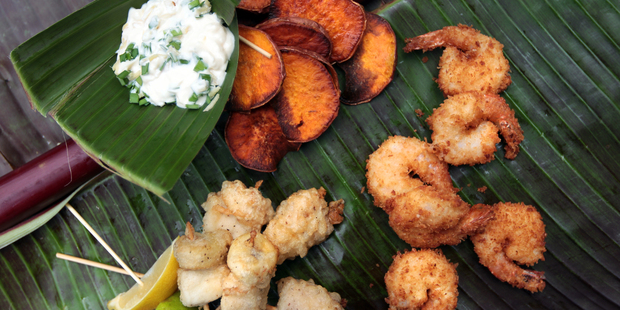 These all require deep frying. You can use a pot on the stove. Fill it to just 2/3 with a light neutral oil such as grape seed. Bring it up to heat slowly; it is ready when a cube of bread fries golden. Cook the food in batches, then drain on paper towels and keep warm.
Beware of splashes as hot oil gives a nasty burn and is extremely flammable. Discard the oil after you have used it.

Coconut Prawns
1. Combine panko breadcrumbs and thread coconut.
2. Dust prawns lightly with flour, dip in a coconut cream and egg mix and roll in the coconut breadcrumbs.
3. Cook in batches , allowing the oil to come back up to heat before starting the next .
Serve with mayonnaise flavoured with finely grated fresh ginger, crushed new season's garlic and chives.

Fish and Banana Kebabs
1. Thread a cube of fresh fish and a slice of banana onto a wooden skewer.
2. Dip into a tempura or light batter. Fry 3 or 4 at a time.

Sweet Potato Crisps
1. Slice across kumara to make very thin discs (you can leave the skin on).
2. Deep fry until crisp and golden.