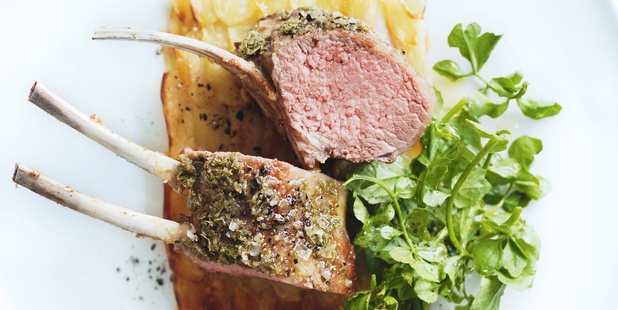 Green peppercorn-crusted lamb rack with crunchy potatoes. Photo / Chris Court, Donna Hay Magazine
Serves 2
• 1 tsp green peppercorns
• 1 tsp fennel seeds
• 2 cloves garlic, crushed
• 400g waxy potatoes, thinly sliced
• 1 Tbsp olive oil, plus extra for brushing
• Sea salt and cracked black pepper
• 400g French trimmed lamb rack
• Watercress springs, to serve
1. Preheat oven to 220C. Place the peppercorns, fennel and garlic in a mortar and pestle and grind to combine. Set aside.
2. Place the potato and oil in a bowl, sprinkle with salt and pepper and mix to combine. Place the potatoes, overlapping, on a lightly greased 19cm x 29cm baking tray. Roast for 15 minutes.
3. While the potato is cooking, heat a non-stick frying pan over high heat. Brush the lamb with oil and sprinkle with salt and pepper.
4. Cook for 3-4 minutes or until browned. Coat the lamb with the peppercorn mixture and add to the tray with the potato. Roast for a further 12-15 minutes for medium-rare or until cooked to your liking. Cover with aluminium foil and allow to stand for 10 minutes. Slice the lamb and serve with the potatoes and watercress.