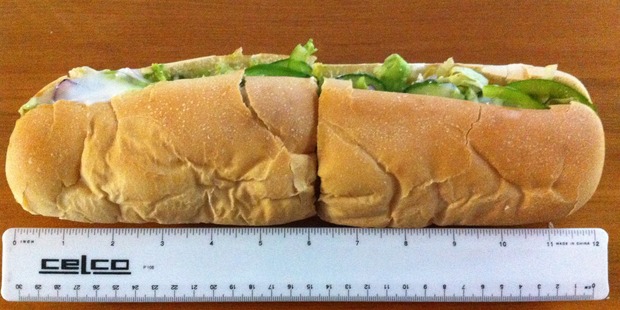 Unlike two disgruntled customers suing Subway in the US, New Zealanders can be pretty satisfied that they'll get their full foot of sandwich.
Subway in the US was sued this week over claims the world's biggest fast-food chain was ripping customers off by selling "foot-long" sandwiches that were slightly less than 12 inches.
Wanting to see how New Zealand subs stacked up, Herald reporters bought and measured seven foot-long sandwiches from Subway stores in Manukau, New Lynn, Newmarket, Takapuna and Queen St in Auckland, Lincoln Rd in Christchurch and Featherston St in central Wellington.
The sandwiches bought from Subway on Upper Queen St and New Lynn fell slightly short at just over 11 and a half inches and 11 and three quarter inches respectively.
But the remaining five all measured in at 12 inches each, with Manukau's slightly longer at almost 12 and a half.
Check out the photos here.
In a media statement, Subway New Zealand said any discrepancies in length are due to differences in the baking of its bread, which happens at each Subway location.
"We are committed to providing a consistent product delivering the same amount of bread to the customer with every order. The length however may vary slightly when not baked to our exact specifications," it said.
"We are reinforcing our policies and procedures in an effort to ensure our offerings are always consistent no matter which Subway restaurant you visit."
While Subway New Zealand had no problems with complaints over its foot-long, it told 3 News that occasional speculation over the size of the six-inch meant that staff kept a ruler under the counter to settle disputes.
How long is your Subway foot-long? Send your photos to us here.