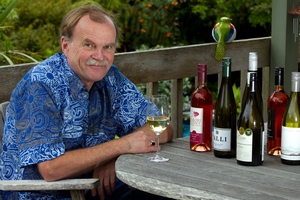 This week wine experts reveal their top drops for the summer season. Today Michael Cooper, Listener wine writer and author of Michael Cooper's Buyer's Guide to New Zealand Wines, opens the cap on his favourites.
For a picnic:
For warm weather you want a lighter, fresher, crisper, white wine; [and] for a picnic, something refreshing.
2011 Marlborough Sauvignon Blanc. Glengarry, $15.99.
I would give this three-and-a-half to four stars, and it goes well with seafood and salad.
Terra Sancta Rose from Central Otago. Available through website www.terrasancta.co.nz at $26.95.
Ideal for red wine drinkers because it is light, refreshing but still has the red wine characteristics.
Stoneleigh Marlborough Riesling.
Countdown, $24.99.
Barbecue:
They're very smoky, so it's not a time to serve sophisticated or expensive wine. Instead you need a robust, rich red wine for smoky meat.
Brookfields Burnfoot Merlot 2011. Glengarry , $19.90.
Merlots from Hawkes Bay are more gutsy than the pinot noirs, and pair well with meat because they are spicy, gutsy and full-bodied with a richness to stand up to barbecue meat.
Champagne breakfast:
New Zealanders sometimes look down their noses at Lindauer because it's so ubiquitous, but the batch out at the moment is surprisingly good.
Lindauer. Countdown, $8.99.
A sweeter bubbly, that's light, fresh and gently sweet. Serve well chilled.
Soljans Fusion Muscat. Liquorland, $15.95.
Dessert:
A good dessert wine without any food is often a perfect dessert in itself.
Seifried Estate Sweet Agnes Riesling. New World, $32.99.
Low-alcohol:
The Doctors' Riesling. Glengarry, $24.
Non-alcohol:
Try drinking sparkling grape juice instead.
My favourite overall:
A five-star wine at a three-star price.
Spy Valley Marlborough Chardonnay 2011. Glengarry, $19.90.