Dish on 'world's 50 most delicious foods' list originated in Indonesia, where it was reserved for special ceremonies and honoured guests.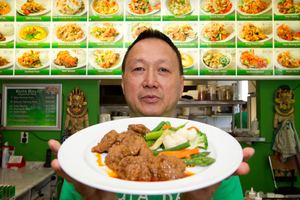 Cooking beef in a mixture of spices and coconut milk brings about a far tastier meal than just grilling the meat on the barbecue, says Indonesian chef Freddy Iskandar.
Iskandar, who has been behind several Indonesian restaurant start- ups in Auckland including his latest, Kuta Bali at the Ponsonby Food Court, says rendang has consistently been among his top sellers over the years.
The spicy meat dish is said to have originated from the Minangkabau ethnic group of Indonesia, and was served at ceremonial occasions and for special guests.
But although it has its origins in Indonesia, rendang spread to many states of Malaysia where overseas Minangkabau live and is today considered a local dish in both Sumatra and Malaysia.
In a CNN online poll, 35,000 people voted the dish as their favourite, putting in on the "world's 50 most delicious food list".
"Mention beef, and most Kiwis will only think of putting it on the barbecue, but I think once they try rendang, they will be hooked," Iskandar says.
"But it takes hours to prepare the dish, and that's why in the past it was served only on special occasions."
The mixture of spices, called pemasak in Indonesian, include ginger, galangal, turmeric leaves, garlic, shallot, lemongrass and chillies.
The other main ingredient is coconut milk.
Iskandar says authentic rendang is dry, even though it has been sometimes been described as curry.
"If the rendang has too much sauce, then you are doing it wrong."
Iskandar recommends Bumbu or Brahim's brand rendang paste, which can be found in Asian supermarkets such as the Tofu Shop and Tai Ping, for those wishing to prepare this dish.
Any beef casserole cuts are suitable and the diced meat should be browned in a pan before mixing it with the packet of sauce and water.
Allow it to simmer on low heat for the meat to soak up the flavours.
"Cooking rendang requires patience, and the longer you let it simmer, the tastier and more tender your rendang will be," Iskandar says.
Dry rendang can last for weeks in the fridge. It is best eaten with rice, and the beef can be replaced with chicken or lamb.
Indonesia's gift to the world
Dish: Rendang Indonesia
Chef: Freddy Iskandar (pictured), Kuta Bali at Ponsonby Food Court
Recommended paste: Bumbu or Brahim's rendang paste
Where to buy: Tofu Shop, Tai Ping supermarkets
What you need: Diced beef, rendang sauce, fried shallots
To cook: Brown diced beef and add rendang sauce and water. Simmer until meat is tender. Garnish with fried shallots. Best eaten with steamed rice. (Rendang paste packs carry full cooking instructions.)