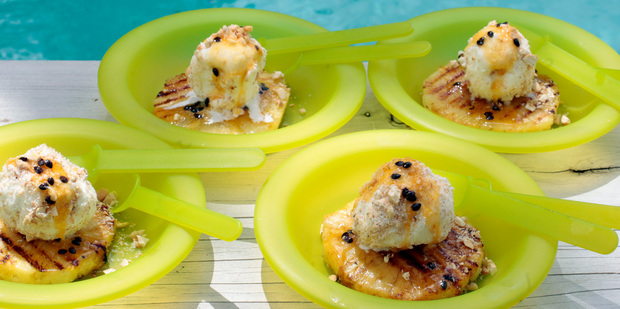 You need to do a little work inside before cooking to make this work. We all know how quickly icecream melts in the sun.
Serves 4
1 ripe pineapple
Hokey pokey ice cream
½ cup of shelled pistachio nuts
½ cup of desiccated coconut
1 Peel and slice the pineapple into 1cm rounds.
2 Carefully toast the coconut in a dry pan. Tip onto a paper towel to cool.
3 Toast the pistachios to just colour a little and chop finely. Add to the coconut.
4 Scoop balls of the hokey pokey icecream and return to the freezer to firm up
5 Roll the ice cream balls in the nut mix to give them a crunchy coating.
6 Return these to the freezer until ready to serve.
7 Grill the pineapple on the barbecue. Plate and pop inside to get the ice-cream.
8 Add a ball to each warm fruit slice and pretend you are somewhere tropical.