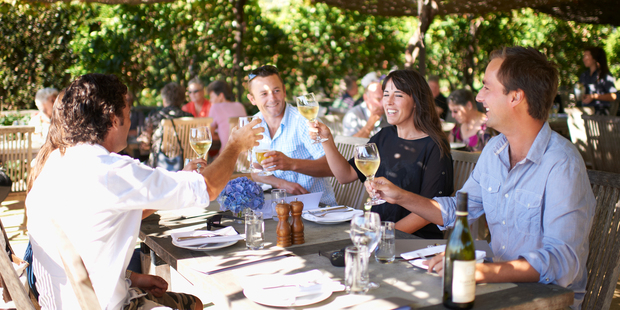 Diners at Black Barn. Photo / Supplied
For Aucklanders, Hawkes Bay has long been the most accessible for a driving tour of New Zealand's luxury wine regions. Now the winemakers of the Bay give us fresh cause to dust off the road map.
This week sees the launch of the Food and Wine Classic, in which the major wineries tout their wares and - just as crucially - show off their stunning locations.
The festival centres around a series of tastings and themed meals, such as Black Barn's dinner with MasterChef winners Brett McGregor and Nadia Lim and Chelsea Winter, and a progressive dinner taking in three of the wineries luxury riverside cottages.
Aside from their excellent bistro in Hastings, Black Barn winery operates a series of cottages and retreats in stunning locations around the Bay.
Their, er, stable of properties were designed by the winery's founder, Andy Coltart, who - judging by the White House at Waimarama Beach, in which we stayed - has an eye for architecture to match his nose for grapes.
The stylish and comfortable White House is an ideal base from which to explore the region's wineries.
Hawkes Bay's concerted play for our affections is working. In conjunction with the recently rebooted cycleways criss-crossing between vineyards and cafes, darting through the countryside and the city of Napier, FAWC showcases the best the region has to offer.
What's the FAWC?
The Hawkes Bay Food and Wine Classic runs from Friday to 11 November.