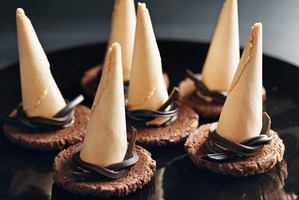 Witches' hats. Photo / Supplied
Makes 8.
8 plain chocolate biscuits
8 dark chocolate buttons
8 mini icecream cones
8 pieces licorice strap, cut into 10cm lengths
Preheat oven to 200C. Place the biscuits on a baking tray lined with non-stick baking paper. Top each with a chocolate melt and bake for 1 minute or until the chocolate has melted. Top each biscuit immediately with an icecream cone and allow to set at room temperature. Wrap a strap of liquorice around each cone.
Tips and tricks
Hats off. You could fill the witches' hats with a surprise filling, such as small marshmallows, lollies or choc-hazelnut spread. You'll have to bite into the hat to find out what's inside.
* For more recipes by Donna Hay, click here.