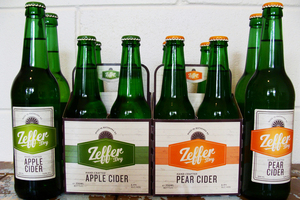 Sam Whitmore and Hannah Bower, of Zeffer Brewing Co in Matakana, are quintessential New Zealanders - they love the country, love a good tipple and took their big OE to Europe. On returning, the going got tough for winemakers (Sam's trade) so they wondered what else they could make with the abundance of great fruit, particularly apples and pears they found here. Hannah and Sam made their home back at a family property in Matakana and turned their enterprising minds to making cider in 2009.
It wasn't too long before they found themselves also wondering how to remove fruit pulp from a high-stud ceiling, thanks to a little Kiwi DIY attitude. Sam had hoped to use much of the winemaking equipment they already owned for the new product, but the hand-operated presser simply couldn't keep up with the workload; consequently showing its displeasure by exploding, leaving the young couple with additional challenges.
Hannah recalls those first processing days with a laugh; mentioning the many family members and friends roped into processing the best apples and pears grown around the country all hours of the day and night.
Nowadays, the imported German press makes the job a lot simpler for Sam, who has sole responsibility for the cider-making, while Hannah looks after the business operation, along with part-owner Josh Townsend who manages sales, in this small but dedicated team.
The Zeffer team are genuine evangelists for their cider, which stands apart from more commercial products you may be used to. Forget sickly sweet cider that needs to be citrus balanced; this Zeffer is crisp, dry and refreshing stuff; much more akin to the traditional cider Hannah and Sam had discovered in Europe while travelling.
Made from freshly crushed fruit left to ferment naturally in a cold-process, there are no flavour additives, additional cane sugars or other nasties to get in the way of delivering a unique NZ twist on traditional cider.
The apple has the most natural tang, with a soft fizz that doesn't diminish the well-balanced and light flavour. The pear strikes you immediately with manuka honey qualities and low acidity. Both are perfectly dry, and round out at 5 per cent abv. Both varieties come in 330ml bottles (in a four pack), or 500ml singles.
The "Slack Ma Girdle" is Zeffer's first speciality release and is made from genuine cider apples, which are incredibly rare in New Zealand. The slack ma girdle (which means "loosen your belt") is made from just one variety of cider apple. In a 750ml bottle (7 per cent alcohol by volume), this cider offers delicious earthy, nutty and slightly spicy notes, balancing the acidity and punch of dry apple and passionfruit.
You'll want to loosen your belt to enjoy another drop when the characteristic Zeffer dry finish leaves you wanting more. Hannah and Sam are planning a range of these big bottle releases, each with a unique flavour.
Where to buy
Glengarrys, Farro Fresh, selected New World stores, Deep Creek Brewing Co (on tap) or zeffer.co.nz. $15.99 per four-pack, $16.99 per 750ml.