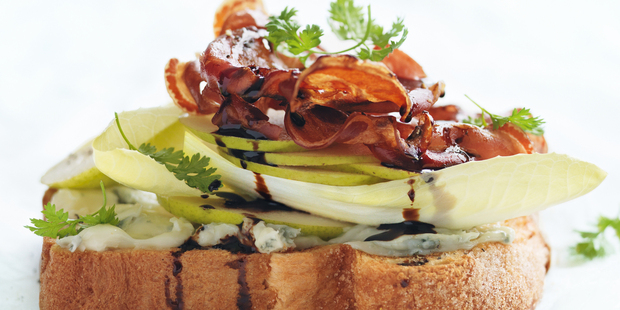 Makes 4
8 slices round pancetta
2 tsp vincotto*, plus extra, for drizzling
4 slices brioche
100g blue cheese
2 witloof**, leaves separated
2 green pears, thinly sliced
1/2 cup chervil leaves
Olive oil, for drizzling
1 Preheat oven to 200C.
2 Place the pancetta on a baking tray lined with non-stick baking paper and cook for 12-13 minutes or until golden.
3 Brush with the vincotto and allow to cool slightly.
4 Spread the brioche slices with the cheese and layer with the witloof leaves and pear slices. Top with the pancetta and chervil and drizzle with extra vincotto and olive oil to serve.
* Vincotto is a dark, sweet condiment made from wine. It is available from delicatessens. If unavailable, use store-bought balsamic glaze.
** Witloof may also be sold as chicory or endives.
For more recipes by Donna Hay click here.