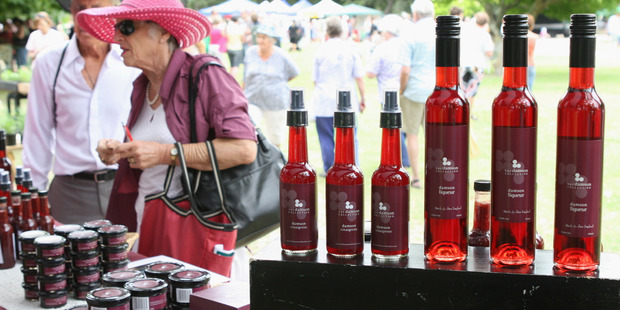 The tart taste of cooked damson plums is wonderful, though they are not often used in jam-making now as the stone is so big the labour to get enough fruit is too much for most people.
Tom and Margie Chambers think it would be a crying shame to let such a beautiful taste disappear from our lives, so they are leading a revival with their wonderful range of jams, jellies and pastes - The Damson Collection.
Their story is as lovely as the jam. They met when Margie, a corporate type who had never even thought about making jam, advertised for a flatmate and Englishman Tom answered. Well he became more than a flatmate, in fact he became her husband and business partner.
One night Tom gave Margie some of his home-made damson liqueur and she was hooked. So much so that she thought it simply had to be taken to the public. And it was all on from there.
They planted their first orchard in 2006, went to market in 2009, and by 2010 had won their first Cuisine Artisan award.
And deservedly so. This has to be one of the best range of condiments I have tasted. The acid and sugar is perfectly balanced: you can attribute that to Tom's family recipe and the natural acidity of the fruit themselves. The whole range tastes similar but varies in consistency and texture. Sharp and tangy but with enough sweetness to round it off.
Damson paste with a good strong cheese would be all you need to serve guests after dinner; the jam is outstanding; the jelly would be great with pork or game; and the coulis would be heavenly in almost any dessert.
The vinaigrette is clever as well as tasty. It comes in a fine spray bottle. Margie says a lot of people keep it in their work desk drawer and spray it on their salads just before eating. It gets rid of the annoying problem of drowned salad greens.
And the liqueur, oh the liqueur! It is marvellous and would be right at home in a cheeky champagne cocktail, working very similarly to cassis in a Kir or Kir Royale. The chocolates are also a treat although I have to say they are more for damson fans than chocolate fans. They burst in your mouth with a strong sweet hit of damson liqueur and finish with a chocolate aftertaste.
Where to buy
Farro Fresh; The Essential Deli, Mt Eden; Ripe Deli, Grey Lynn; Spencer's Store, Glendowie; Smith & Caughey's; Mud Pie Deli, Pt Chevalier; Luscious Food Store, Te Atatu plus good delis in Bay Of Plenty, Taupo, Rotorua, Waikato and Hawke's Bay.