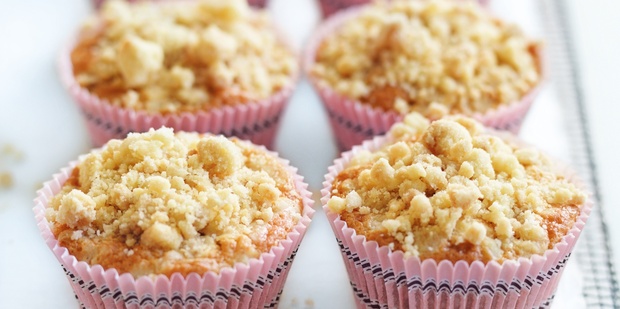 Makes 12
1 1/4 cups plain flour, sifted
3/4 tsp baking powder, sifted
1 cup caster sugar
125g unsalted butter, melted
2 eggs
3/4 cup milk
1/2 tsp vanilla extract
2 cups grated apple
1/4 tsp nutmeg
1 tsp cinnamon
Crumble
3/4 cup plain flour
1/4 cup caster sugar
60g unsalted butter, melted
1 Preheat oven to 180C.
2 To make the crumble, place the flour, sugar and butter in a bowl and mix well to combine.
3 Spread on a baking tray lined with non-stick baking paper and bake for 15 minutes or until golden. Set aside.
4 Reduce temperature to 160C.
5 Place the flour, baking powder, sugar, butter, eggs, milk, vanilla, apple, nutmeg and cinnamon in a large bowl and whisk until well combined.
6 Spoon into 12 x 1/2 cup-capacity muffin tins lined with paper cases and top with 3/4 of the crumble mixture.
7 Bake for 24-26 minutes or until cooked when tested with a skewer.
8 Allow to cool on wire rack. Top with the remaining crumble to serve.
* For more recipes by Donna Hay click here.