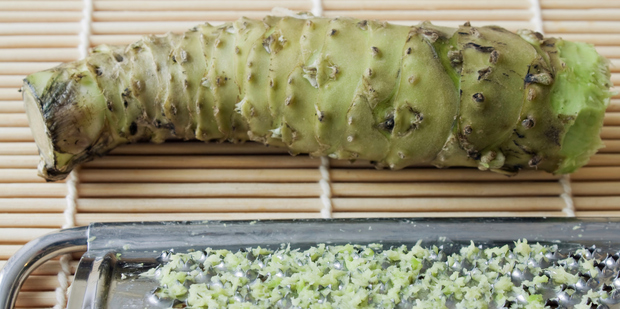 I was flicking through a magazine at 30,000ft when I first discovered Namida. Curiosity piqued by the description "Wasabi Spirit", it wasn't too long after landing that I was trying to determine what Japanese horseradish grown in New Zealand could possibly have in common with vodka.
The answer is even more intriguing: a young opera singer by the name of Julien Van Mellaerts told me wasabi vodka wasn't necessarily a new idea. Julien's parents, Michel and Jenny, are growers of 100 per cent pure wasabi and the first batch of wasabi vodka was produced in 1996.
Unfortunately, enthusiasm and commercialisation strategies got out of hand in those early days, resulting in a buildup of gas and a consequent explosion. Bright ideas momentarily shelved, off Julien went to university.
Five years later, the young singer realised his university years had given him an excellent training in vodka, so he set off to re-imagine the dream of creating a genuine wasabi vodka.
He pulled the original plans out of the drawer and a long and sometimes challenging road followed. Namida doesn't carry the Japanese word for 'tears' for nothing.
The spice-laden, unique and dramatic spirit is reminiscent of absinthe in the right light. The nose is full of heat and bite, with sultry manuka honey notes as you pour it into the glass. The 40 per cent alcohol, quad-distilled vodka base leaves a clean palate for the wasabi flavours to fully come alive, with a smooth enough finish to drink it straight.
On tasting, the savoury, sesame-like flavours of the wasabi developed slowly with just a hint of heat and an amazing depth of flavour. The first sip was intriguing, the second pleasurable and the third caught our imaginations alight, as the kind of artisan spirit foodies will love to flavour-match.
We consulted James Goggin, who has used Namida at Suite in Hobson St, one of only two bars serving the spirit in Auckland.
He recommended giving a traditional Bloody Mary a twist, a great piece of advice as the extra level of spice and heat from the Namida complemented the tomato juice, Worcestershire sauce and celery salt.
There are multiple cocktails that all work well with the balance of flavours - for a Namida martini you can ditch the olives; in a sour it is refreshing. It may not replace sake as your beverage of choice while eating Japanese food, but certainly has a place in New Zealand's fusion kitchen.
Where to buy
Available at Library Bar, Suite Bar , Made in Nippon, Queen Street and The Whisky Shop, Elliot St. Online from wasabispirit.com, $65 750ml, $55 500ml.