Herald on Sunday Rating: 3.5/5
Address: Cnr Remuera Rd and Nuffield St, Newmarket
Ph: (09) 523 0293
Website: iledefrance.co.nz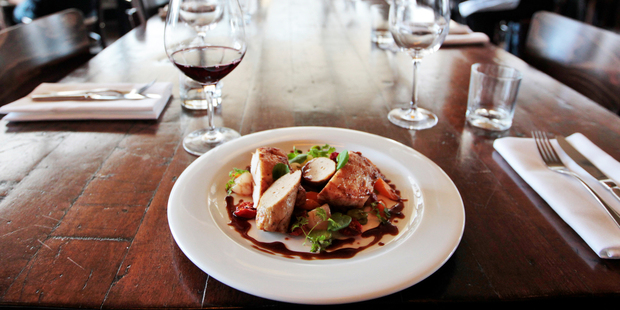 Here's a tip for running a restaurant: every time a diner sits down, one of the waiting staff should plonk a glass of chilled (not iced) filtered tap water on the table. Thus is marked, simply but effectively, the moment when the customer turns from new arrival into guest. It says "we know you are here and we are glad".
Few restaurants do it - they want you to buy Antipodes or Evian at $20 a litre. But at Ile de France the other evening, they went one better, elevating off-handedness to high art.
I was pointed at a table and ignored for more than seven minutes while the two waitresses and the chef had a business meeting - sheets of paper and animated conversation - at the bar. Later, one of the waitresses gave me menus and a wine list but said she would wait for my companion to join me before telling us the specials (and when she did so later, she barged straight into our conversation). The idea that I might want to order something - much less merit a free glass of tap water - seemed not to have occurred to her.
"Do you think it's a cultural thing?" asked Andrew as he sat down a few minutes later. He meant, "do you think it's just because the French are bloody rude?" and he may have a point: the rudest waiter I ever met was in Bordeaux, but I have experienced attentive and courteous service at backstreet cafes in Paris and small-town bistros in the regions.
In fact, the waitress in question became much more attentive as the meal progressed, and I would not be so cynical as to suggest that her attentiveness mounted at the same rate as the bill. She recommended dishes and wine matches, expounded at length on the cuisine and the provenance of ingredients and talked me intelligently through the cheese selection. It was, in short, an elegant recovery after a stuttering start.
Ile de France is the name of the region of the Republic that includes Paris. It seems a reasonable enough moniker for a conventional bistro; the autumn 2012 menu, which was the one on the website in the first few days of spring (go figure) was rich in the classics of French provincial cuisine - terrines and rillettes; entrecote and confit duck; creme brulee and big, smelly cheeses. The new one, which may be up by now, is similarly both standard and exhaustive.
Chef Gilles Papst comes from Alsace, the northeast bit that was for a long time kicked back and forth between France and Germany. So his signature dish is the choucroute - the Alsace-born French version of the German Sauerkraut, a delicate pickled slaw for which Papst imports the cabbage (our local version doesn't do the trick, he says). But rather than sausage or pickled meats, it was topped with free-range pork (scotch fillet, belly and sausages), enlivened with a sauce of wholegrain mustard. Paired with a citrus-laden Alsatian riesling, it was a quite splendid concoction. Our other main selection was a perfectly judged confit duck leg, its skin crisp and parchment dry, and the red and melting flesh sliding easily from the bone. The accompanying potatoes, sensibly roasted in duck fat, completed the picture.
We had earlier passed up a terrine and charcuterie platter in favour of the other two entrees. One was a small dish of baked (shelled) snails and baby mushrooms which was not a happy marriage: visually they were hard to distinguish and the sauce had also erased a taste difference so that only texture told them apart. By contrast, Andrew's little seafood "pot-au-feu" - a bouillabaisse-like dish of mussels, prawns and huge Cloudy Bay clams in a broth of cider and chervil - was a delicious taste of Brittany and very apt to the evening as the rain bucketed down outside.
They've done their best with the huge semi-circular space in what was the old Auckland Electric Power Board HQ, scattering some old sticks of furniture here and there and propping up mounted posters on the windowsills. But it's still a bit chilly and cavernous. If its ambience you're looking for, this is probably not the best French restaurant of its sort in town. But it gives a solid and sometimes spectacularly good account of itself and the almost exclusively French wine list is great. I'll be back for more of that choucroute very soon.
Verdict
First-rate food in unprepossessing surroundings.