Address: 225b Dominion Rd (cnr Walters Rd and Dominion Rd)
Phone: (09) 630 0228
Open: Tue-Fri 10am-10pm, Sat 9am-10pm, Sun 9am-4:30pm
Cuisine: Spanish
Rating: 7/10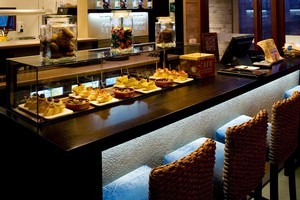 Ooh, what a gem. As far as restaurants and bars in Auckland go, there are places you take your mother to and others you avoid even telling her you frequent. Trust me, this new establishment in Mt Eden is perfect for the former.
Serafin is a new tapas bar open for breakfast, lunch and dinner and is housed in the cutest building you could hope for. The design is fabulous with its restful plywood interior, stylish white lampshades hanging over the dining space and big sliding doors that open out to an internal courtyard. Their only immediate issue, which has been well documented in the press, is that they've yet to be granted their liquor licence due to an objecting neighbour. So at the moment it's fair to say that it's more tapas than bar but I'm sure that common sense will prevail.
Meantime, don't let this hiccup stop you from supporting this little treasure, they'll surely appreciate the income to keep them afloat while they fight the good fight.
Where once I wasn't a big fan of tapas-style dining, I'm now a complete convert. It's the perfect form of social eating. Ordering lots of small, tasty plates of food that can be shared creates a relaxed and casual style of dining that not only reduces the risk of food envy but liberates you from the usual structure of entree, main and dessert.
I recommend taking your time with your fellow diners, as well as asking the staff for suggestions, so that you create a meal of tapas that makes sense - in texture, flavour and quantity. Slow, continuous grazing becomes the order of the day. And so it was when our family settled in to try out the evening menu at Serafin recently.
While we chit-chatted away about what we each felt like eating, the wonderful waitress brought us some bread rubbed with garlic and tomato and she helped us to put together a feast that would satisfy all of our appetites.
For our first dishes we ordered ensalada Catalan - a salad of roasted vegetables and anchovies - and langostinos, prawns in garlic. The salad reminded me so much of the casually fabulous dishes you get in the small, alcove-like tapas bars you find in Barcelona. Served at room temperature, it was presented as a rainbow of delicious strips of rich red peppers and soft purple aubergine and scattered with a few intensely salty anchovies. It was heroic in its simplicity.
The prawns were a tad highly priced for the four that we got but they were beautifully cooked with a decent lick of garlicky olive oil and a pinch of spicy paprika.
We followed on with the ham, chicken and chorizo croquetas but these were disappointing with the flavour reminiscent of a meat-lovers supreme pizza. But the great thing about tapas-style eating is that if a dish is not to your liking you can just move on to one that is. Magnifico.
Succulent chicken thighs, slow cooked in garlic and thyme, and perhaps a splash of vinegar, were a pleasant kick for the tastebuds and the albondigas, Spanish meatballs, really did encapsulate the "one perfect bite" rule of tapa-style eating.
Ordering patatas bravas (literally "fierce potatoes") sometimes seems a bit pedestrian but you can't deny their usefulness in soaking up the juices of other dishes.
Instinctively we all felt when it was time to stop ordering from the savoury menu and turn our attention to the sweets. We couldn't resist two of Spain's favourites - churros con chocolate and crema Catalana.
The first batch of churros arrived slightly underdone but these were graciously replaced when we tentatively pointed it out. These elongated donuts can be tricky to cook as it's important to ensure the right degree of crispy outer layer is reached while still maintaining a soft, though not uncooked, centre.
Showered in sugar and accompanied by a small cup of warm, spiced chocolate for dipping, these, second-time round, were perfect.
The crema Catalana was one of the best I've tasted. Perfumed with orange zest, this baked custard was cooked until just set, topped with a layer of sugar, caramelised to a sweet and bitter burnt brittle. Marvellous.
We left Serafin committed to returning to try their famous two-person paella as well as their "al comenzar el dia" menu - it looked like a great way "to begin the day".
So rather than vilifying those currently obstructing the granting of Serafin's liquor licence, vote with your mouths I say. Serafin is serving some great food and the alcohol-less bill is sure to please the pocket. It's a win-win at Serafin.
From the menu: Patatas Bravas $8, Langostinos $17.50, Croquetas $8.50, Albondigos $9, Ensalada Catalana $9.50, Pollo En Escabeche $11.50, Vichy Catalan $7, Chocolate Con Churros $8, Crema Catalana $9.50.
Drinks: Unlicensed as yet.