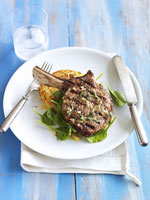 Serves 4
1 cup red wine
1/2 cup olive oil
4 cloves garlic, crushed
2 Tbsp chopped rosemary leaves
1/4 cup brown sugar
1 x 800g butterflied leg of lamb*
Roasted truss cherry tomatoes, to serve* *
Place the wine, oil, garlic, rosemary and sugar in a bowl and mix well to combine. Use a meat mallet to flatten out the lamb to an even thickness (see tips and tricks).
Place in a dish and pour over the wine mixture. Cover and refrigerate for 1 hour to marinate. Heat a chargrill pan or barbecue over medium-high heat.
Cook the lamb, skin-side down, for 10 minutes, turn and cook for a further 10 minutes for medium-rare or until cooked to your liking. Slice and serve with roasted cherry tomatoes and your favourite mustard.
* Ask your butcher to do this for you. They will remove the bone and flatten out the leg.
* * To roast cherry tomatoes, place tomatoes on a baking tray. Drizzle with olive oil and sprinkle with salt and pepper. Roast in a preheated 160C oven for 20 minutes or until softened.
By Donna Hay