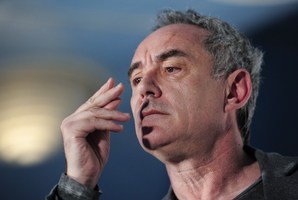 Spanish star chef Ferran Adria has unveiled plans to open a "cooking laboratory", museum and database of top recipes at his world-beating restaurant elBulli.
Adria, whose eatery was crowned best in the world five times by Britain's Restaurant magazine before it closed in 2011, gave a preview of the "elBulli Foundation", which he says will open next year.
For over two decades the Catalan chef, now 51, pushed the boundaries of cuisine, using hi-tech methods to take apart and rebuild foods in surprising ways.
He served the last meal there in July 2011 and announced his plan to convert it into a training and research centre, so he could concentrate on culinary innovation instead of running the restaurant.
"This foundation has been three years in preparation and is now 95 per cent finished," he told reporters in Barcelona.
The new entity will consist of three parts, including an exhibition on the history of cooking titled elBulli 1846 and a cooking research "laboratory" called elBulli DNA.
The laboratory will host "40 people from around the world, from cooks to designers to architects," Adria said.
"We will work on efficiency and innovation and the final result will be about cooking and will be published on the internet."
The third part of the foundation will be the "Bullipedia", a "gastronomic encyclopedia" including a database of recipes and ingredients.
"There will be an exhibition space on the one hand and a creative space on the other," Adria said.
It will all be housed in the former restaurant's premises, in a nature reserve overlooking the Mediterranean near the resort of Roses, a two-hour drive north of Barcelona.
Adria said regional authorities were willing to change environmental norms so he could build an extension to house the exhibition space, a prospect that has raised concern among nature groups.
"There will be no environmental impact," Adria promised. "This is a social project. But we want consensus and good relations."
- AFP