Mamak Malaysian Restaurant
Chancery, 50 Kitchener St Auckland
Ph: (09) 948 6479
www mamak co nz
Stars: 3.5/5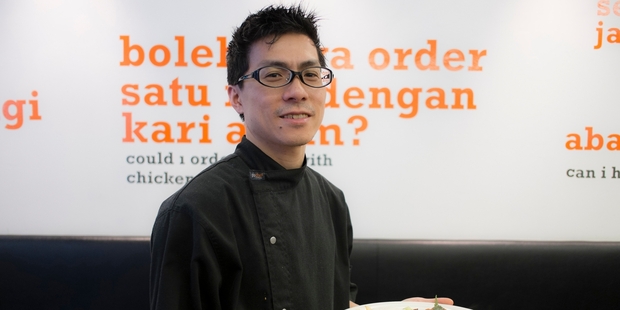 Is there no end to the leaky building fiasco in Auckland? An apartment building in my neighbourhood was swathed in plastic last year for what I could have sworn was the second time. The Professor says it's the first time and I'm just getting old, which is quite true but entirely beside the point, not to mention unkind.
The Chancery has been under wraps and being de-leaked for more than a year now and picking my way through a clutter of scaffolding to get to Mamak put me in the Asian back-street frame of mind. It would have been more evocative if the scaffolding had been bamboo instead of steel, and wizened septuagenarian women had been scaling it with cane baskets full of cement, but you can't have everything.
Mamak, which is not much bigger than a hole in the wall, doesn't take bookings and although our group of five arrived early I was a bit alarmed to find it full.
But before we had even looked at the menu, the management had reconfigured a couple of newly vacated tables-for-two to accommodate our group.
It was a cheering display of the considerate service that (see last week's column) can elude expensive places, and it put me in a very good frame of mind.
Mamak is a word of Tamil origin used in Malaysia to describe the Muslim community whose forebears arrived from South India at least 1000 years ago. Their street cafes, called mamak stalls, occupy a special place in Malaysia, where the cuisine is an enchanting melange of Chinese, Indian, Indonesian, Portuguese, Thai and Arabian food, as well as indigenous Malay: Mamak food is unpretentious food that, even if served in a spartan cafe on tables, has not lost touch with its street-stall roots.
That's plainly the prevailing ethos at Mamak, although the surroundings are too spick and span to be mistaken for a back street in Kuala Lumpur.
The wall is covered with carefully lettered phrases in Malaysian and English, so the enterprising diner can order up, say thank you ("terima kasih") and ask for the bill in the appropriate lingo.
And if some of the crockery is cheap melamine, the prices are to match. As one of our number noted, these are food-hall prices, but you get table service and a cheery welcome rather than the food hall hawker's holler.
Our quintet opened its account with nibbles (inevitably called tapas): soft-shell crab, in a light-textured spicy batter; leek-filled gyoza dumplings (yes, they're Japanese, but when your food comes from a culinary crossroads, anything goes); and squid balls with homemade sambal sauce. All were excellent - greaseless and tasty.
The same observant member of the group was smart enough to urge that four main dishes between five of us would be enough - my inclination was for six - and he was right on the button. The generous seafood laksa came in a bowl so large I was surprised the slight waitress could heft it on her own.
There was more surimi than I thought appropriate: it's pretty salty stuff and little cheaper than mussels, say, or some of the cheaper cuts of real fish. But the chilli coconut broth was a winner and this dish would easily do two people for lunch.
The Mamak version of the char kuay teow (Malaysia's answer to pad thai) was impressive, a sweet-sour taste adventure of soft rice noodles studded with prawns and squid, and crispy bean sprouts lending a fresh-from-the-wok texture.
I was also most impressed with the beef murtabak - a stuffed pancake that recalls a toasted sandwich - which is famous from Arabia to Indonesia. It came on a segmented tray like the Indian thali does, with little dipping sauces including an excellent mild potato curry.
The other classic, the nasi lemak, was also well handled: it's generally regarded as Malaysia's national dish and typically consists of rice cooked in coconut milk (nasi lemak means coconut rice), cucumber, peanuts, hard-boiled egg and sambal. Mamak's version came with a serving of the beef curry called rendang, which I've always found too dry (this was no exception) but it was damn tasty, and the nutty taste of toasted coconut was a nice touch.
Mamak regularly features in top-takeaway lists, but I'm happy to confirm it's a fine place to eat in, too.
Verdict: Ya, sila (it means "yes, please'' in Malay)