Each week, Wendyl Nissen takes a packaged food item and decodes what the label tells you about its contents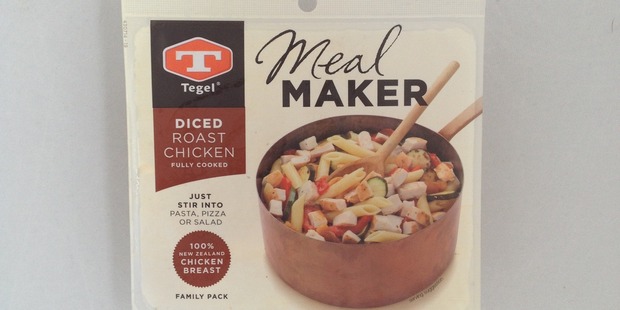 Most weeks our 15-year-old takes my eftpos card and disappears to the supermarket to buy "things for lunches and snacks."
Recently her "things for lunches and snacks" have been costing an arm and a leg.
Closer investigation revealed that we were buying three packets of this a week.
"What's wrong with a roast chicken in the fridge like we always have for lunches?" I inquired.
"It's handy," she replied. "And tastes better."
This product does have flavouring and colour added, so she might have had a point.
Until I bought a ready-cooked chicken, chopped up the breast and put them in this packet, carefully hiding the original contents in the back of the fridge.
"Enjoying your special chicken?" I asked later that day.
She was. And when told it was a cheaper version she simply said:
"Meh ... chicken is chicken."
Ingredients
• Chicken (94%) - This is 100% New Zealand chicken breast meat but not free-range.
• Salt - There is 440mg of salt per 80g serving. SugarNot a lot in here, will be mainly in the chicken for flavour.
• Spice
• Natural flavours - Not sure what these are but at least they are natural. Corn starchThis is cornflour and will be in here as a coating/thickener.Herb
• Vegetable powder (tomato, onion, garlic) - These will be dried.
• Maltodextrin - This is another form of sugar but will also be in here to keep things moist.
• Natural colour (150c) - I wouldn't consider this a natural colour. It is caramel III which is made by heating sugars with ammonia.
• Spice extract
• Acidity regulator (326,262) - These are potassium lactate (326) which is a natural acid produced from milk and sodium acetate (262).
• Preservative (223) - This is sodium metabisulphite which can be a problem for people who avoid sulphites.
My recommendations
From a price point of view I can buy a whole cooked chicken at the supermarket for $13.99 (free-range for $15.49) and get 400g of breast meat as well as thighs, drumsticks, wings and a carcass for the dog or soup. For 15-year-olds you could cut up the breast and put it the fridge as a handy snack. But do be aware that the ready roasted chickens in the supermarket also have added ingredients such as mineral salts, maltodextrin, acidity regulators, thickeners, natural flavours and a natural colour (paprika).
The best thing to do, in my opinion, is to buy a free-range chicken for $10.99 (about the same price as this product), roast it yourself so there are no additives and chop it up for teens in need of handy chicken.
Highlights:
• Has added flavour, colour, preservatives, acidity regulators.
• Tastes the same as breast off a ready-roasted supermarket chicken.
• Costs a little less than a whole chicken.

Do you have a food product you would like to feature in Wendyl Wants to Know? Email wendylwantstoknow@gmail.com with suggestions. Unfortunately Wendyl cannot correspond with readers.