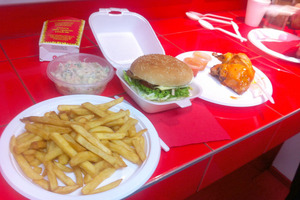 Last month Central Auckland's dirtiest eating establishments were named.
Food grades in the former Auckland City region show 10 restaurants and cafes have received E grades, with 29 given a D grade.
The New Zealand Herald online asked readers if they were influenced by the food grading system. Nearly 13,500 readers responded and just over half said they used the rating to make a call about whether to dine there. Or not.
But to the every day diner, how do these places really stack up?
A few brave members of the online team have decided to put their bellies on the line and review all 29 of the D listers, revealing one a day for the month of September. D grade eateries are reviewed twice a year, according to Auckland City Council. While they are subject to change, our list is correct as of the last week of August, 2013.
If the grade is changed at the time of publication this will be made clear in the review.
So join us on our journey eating through the D list. Check in at lunch each day, read our review, and let us know in the poll if you have - or would - eat at the outlet.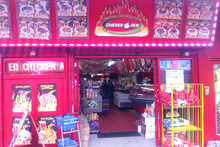 Chicken Run, 208 Richardson Rd, Mt Roskill
We ordered: A secret formula burger with lettuce, cheese, onion rings and Portuguese chicken boosted into a combo with tasty seasoned fries ($11.10). The sweet girl at the counter also convinced us to get the flame grilled whole chicken (on special for $13) cut in to quarters and flavoured with her spicy lemon pepper sauce and a side of coleslaw ($3.60).
The vibe was: Doing its best considering this tiny three-seater eat-in outlet sits at the back of a bright and busy butcher. Said butchery would hamper the vibe for any easily confronted meat eater.
The décor looked: Like it was nestled at the back of a butcher. Dining-in is obviously a rarity as we struggled with plastic cutlery at our bench.
The service was: Really sweet and full of friendly suggestions.
We left feeling: Like you can't go wrong with a flavoursome roast chicken. But the burger-eater was a bit weary of some pieces of questionable meat.
We could see their D grade: Positioned in the front window, below a B grade certificate.
The most D-grade thing about it: The unused looking kitchen at the back of a butchery.
- www.nzherald.co.nz