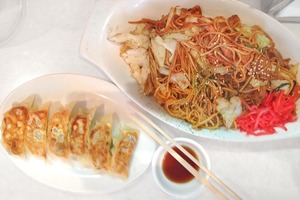 Last month Central Auckland's dirtiest eating establishments were named.
Food grades in the former Auckland City region show 10 restaurants and cafes have received E grades, with 29 given a D grade.
The New Zealand Herald online asked readers if they were influenced by the food grading system. Nearly 13,500 readers responded and just over half said they used the rating to make a call about whether to dine there. Or not.
But to the every day diner, how do these places really stack up?
A few brave members of the online team have decided to put their bellies on the line and review all 29 of the D listers, revealing one a day for the month of September. D grade eateries are reviewed twice a year, according to Auckland City Council.
While they are subject to change, our list is correct as of the last week of August, 2013. If the grade is changed at the time of publication this will be made clear in the review.
So join us on our journey eating through the D list. Check in at lunch each day, read our review, and let us know in the poll if you have - or would - eat at the outlet.
Geihinkan/Ichiban, 17 Albert St, Auckland
What we ordered: The gyoza fried dumplings (6 for $7) and the chicken yakisoba ($12). The gyoza tasted like a standard dumpling with too much water inside. But the generous portion of yakisoba noodles, laced with shredded cabbage and pickled ginger was a cracker.
The vibe was: Fine, but forgettable. This small inner-city hole-in-the-wall was last year picked as one of the best takeout joints by Metro magazine. It was empty on our visit, but there was something kind of appealing about the fact that your face is so close to the fire.
The décor looked: Pretty grubby and weird. The walls were packed with dodgy DVDs and the water tumblers stacked up on damp dishcloths around the bench seating. However, we must admit we did dig the bench style setup that only sits about a dozen diners.
The service was: Brief, but efficient.
We left feeling: Pleasantly surprised.
We could see their D grade: Not upon arrival, but once we sat down facing the kitchen we could see it on a back wall.
The most D-grade thing about it: The open kitchen doesn't look that flash.
We'd go back: Because it's conveniently close to work.
- www.nzherald.co.nz